Cambridge Mosque is hit with public and bookies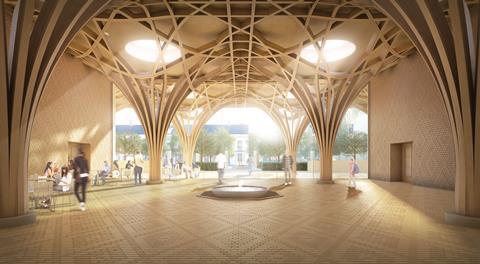 Marks Barfield's Cambridge Central Mosque has been named winner of the unofficial People's Vote.
The result of a public poll run by the RIBA was announced on the eve of the Stirling Prize ceremony.
The mosque, one of the late architect David Marks' last projects, is also the bookies' favourite to win tonight.
The Cambridge Mosque Trust has also been shortlisted for Client of the Year, along with English Heritage, Hackney council and Warwick Manufacturing Group, University of Warwick.
>> Also read: Ben Flatman's appraisal of the shortlist and the frontrunners to win
When will the Stirling Prize winner be announced?
The official decision by the jury – chaired by triple Stirling Prize winner Norman Foster – will be announced at a private function at Coventry Cathedral streamed live on BBC Radio 4's Front Row programme from 7.15pm and the BBC News Channel from 7.30pm.