English Heritage and Hackney council among other finalists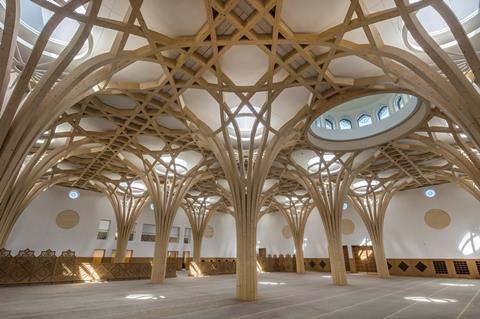 The Cambridge Mosque Trust has been shortlisted for the RIBA Client of the Year award for commissioning Marks Barfield's Stirling-shortlisted timber mosque.
Hackney council, English Heritage and Warwick Manufacturing Group are the other contenders on the shortlist announced by the RIBA today.
The winner will be announced at the Stirling Prize ceremony next month.
Jury chair Jo Bacon, a partner at Allies & Morrison, said: "The Client of the Year shortlist has very strong contenders – some of which are also in the running for the 2021 RIBA Stirling Prize – which show their long-term commitment to the quality of the architecture commissions.
"Our shortlist demonstrates the courage and commitment of clients, determined to help create something with vision, ambition and innovation."
The other members of the jury were Dav Bansal, a partner at Glenn Howells Architects; and Anthony Dewar, head of buildings and architecture at Network Rail.
>> Ben Flatman's appraisal of the shortlist and the frontrunners to win
RIBA Client of the Year 2021 shortlist
• Cambridge Mosque Trust
- for Cambridge Central Mosque by Marks Barfield Architects
• English Heritage
- for Tintagel Castle Footbridge by Ney & Partners and William Matthews Associates & Walmer Castle and Gardens Learning Centre (with the Heritage Lottery Fund) by Adam Richards Architects
• London Borough of Hackney
- for Tiger Way by Hawkins Brown
• Warwick Manufacturing Group, University of Warwick
- for Prof Lord Bhattacharyya Building by Cullinan Studio
Previous winners of RIBA Client of the Year include Network Rail (2019), Argent (2018), Bedales School (2017), Westmorland Ltd (2016), National Theatre (2015), Manchester Metropolitan University (2014), National Trust (2013) and the Olympic Delivery Authority (2012).