Historic England confers grade II status on Edwardian structure in south London
Government heritage advisor Historic England has trumpeted the grade II listed status just granted to a bandstand in south London where David Bowie performed when he was on the cusp of global stardom.
Today marks the 50th anniversary of the Growth Summer Festival in Beckenham's Croydon Road Recreation Ground, where Bowie played weeks after the release of his first top-10 hit Space Oddity.
The bandstand where the performance took place was granted listed status this month by the Department for Digital, Culture, Media and Sport on the advice of Historic England.
Historic England's citation describes the 1905 structure as "a rare and substantial example of cast-iron work by the McCallum and Hope Iron Foundry" in Glasgow. It is the only known bandstand made by the firm that is still standing in Britain.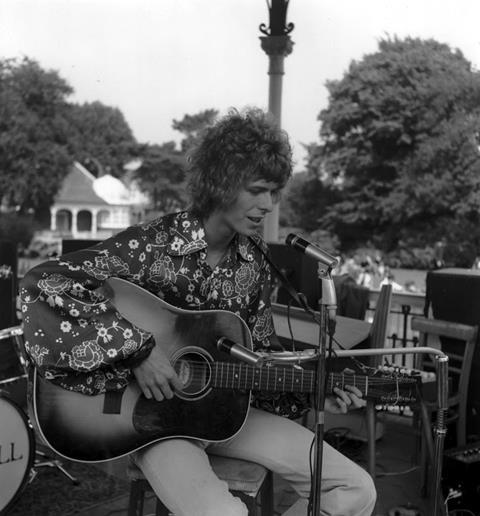 The citation also directly references the bandstand's "historic association" with Bowie, who "played, compered and co-organised" the 1969 festival – as a fundraiser for the Beckenham Arts Lab project – and subsequently immortalised it in the song Memory of a Free Festival.
Historic England chief executive Duncan Wilson said the bandstand's listing was a fitting recognition of the structure's significance and its association with Bowie, who died in 2016 at the age of 69.
"Walking past this typical yet characterful bandstand, you probably wouldn't expect it was once the stage for a young man who would become one of the most iconic musicians of the 20th century," he said.
"It is a rare survival from a historic iron foundry in its own right, but its significance as a site that inspired David Bowie shows us how powerful our historic places can be and how important it is that we protect them so they will continue to inspire people for years to come."