Developer still mulling Timber Square decision as completion slips again on 21 Moorfields
Landsec has still not said when it will start work on a speculative £280m office-led scheme in Southwark designed by Bennetts Associates.
Timber Square was given the green light by local planners last December and involves turning a 1950s printworks into 350,000 sq ft of grade A offices, affordable workspace, roof terraces and new public realm.
Demolition work is under way and the developer appointed a contractor despite saying the pandemic had put question marks over the job.
But in its half year results published yesterday - which also revealed the status of other projects - Landsec admitted it had still not made up its mind about whether to press on with the job.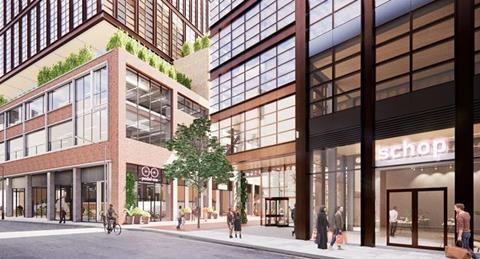 In May, in its annual results, the firm had promised a decision by the autumn but it has now parked this until some time in the future.
Landsec has three speculative schemes on site, including Fletcher Priest's Lucent project at Piccadilly Circus and the next phase of its Nova office scheme in Victoria called n2, designed by Lynch Architects, and the firm said it was "confident" pre-let interest would increase as these jobs approached the finishing line.
But with those that have not started, it said it wanted to make sure it wasn't taking on unnecessary risk by going ahead with buildings it couldn't let.
It said: "We are ready to progress Timber Square at the appropriate time. We maintain flexibility on when to commit to the next phase, allowing us to manage our exposure to speculative development." It added that it wanted to "progress our committed projects first".
Laing O'Rourke has signed a pre-construction services agreement with the firm saying much of the scheme at 25 Lavington Street, close to the Tate Modern, will be manufactured offsite at its Explore factory in the East Midlands.
Others working on the job, which is not expected to finish until March 2024 if it goes ahead, include QS Alinea.
Landsec added that plans, drawn up by Gensler, to refurbish a 1960s office block called Portland House in London's Victoria were also up in the air.
It said: "We are refining our plans for the development with a view to being ready to proceed during 2022."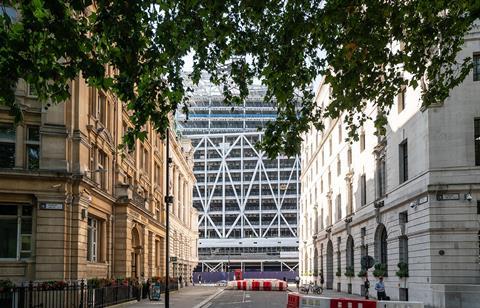 Earlier this year, Landsec said work was set to finish in September 2024 but the firm said this has now been put back to some time in 2025. The block has been empty since last March with work involving adding a 14-storey block to the side of the existing 29-storey building.
This week's results also revealed that completion on Wilkinson Eyre's office block at 21 Moorfields in the City had slipped again.
The job was originally due to finish next March but was first pushed back to June, then to the following month and has now been slated for a September 2022 finish. Landsec gave no explanation for the latest delay but has previously said they have been caused by the impact of the pandemic on productivity at the site. The 17-storey job topped out in September and is due to become the headquarters of Deutsche Bank.
In the six months to September, Landsec said revenue was down 3.5% to £315m but pre-tax profit returned to the black at £275m from an £835m loss last time.
Developer to spend £135m cutting carbon emissions
Landsec said it will spend £135m over the next nine years to decarbonises its portfolio.
The investment, which equates to around 1% of portfolio value, will involve retrofitting more solar PV panels, replacing boilers with air source heat pumps and upgrading building management systems.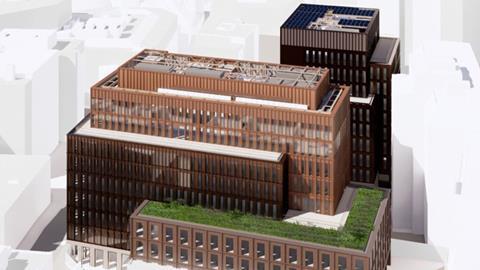 The firm said it expected the overall programme will see 24,000 tonnes of carbon emissions removed from Landsec's operations – equivalent to over 35,000 return flights from London to New York.
Earlier this month, chancellor Rishi Sunak said all UK listed businesses would be required by 2023 to publish plans for how they will support a transition to a low-carbon future.
Landsec said its first net zero building, called The Forge (pictured) in Southwark, would complete next October. It has been designed by Bryden Wood.