Ministers cite embodied carbon for first time as reason for rejection
Ministers' decision to reject Foster & Partners' Tulip partly on the grounds of its "highly unsustainable" use of concrete may have set a "game-changing" precedent, according to architects, planners and lawyers.
Other major projects are now likely to be given a much harder ride at planning with their sustainability credentials set to come under significant scrutiny.
In a ruling that was backed by Michael Gove and his housing minister Christopher Pincher, planning inspector David Nicholson noted that the Tulip would require the demolition of an office building less than 20 years old. The scheme replacing it would not be carbon neutral and would not achieve zero-carbon on site, although he acknowledged the designers had gone to "enormous lengths" to make its construction and operation environmentally friendly.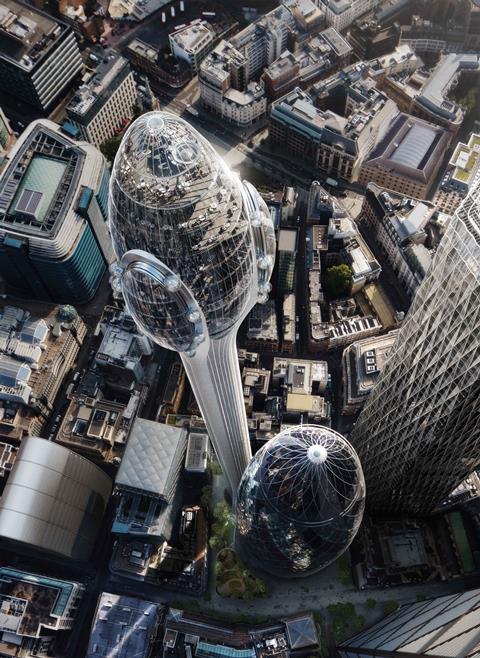 Nicholson described as "highly unsustainable" the concept of using "vast quantities of reinforced concrete for the foundations and lift shaft to transport visitors to as high a level as possible to enjoy a view".
While surrounding office towers used similar quantities of concrete in their cores, this was easier to justify because of the buildings' purpose, he said, adding: "At [Eric Parry's consented] 1 Undershaft there would be more than 130,000sq m of highly valuable employment floorspace to justify the servicing."
This is the first time we've seen excessive embodied carbon and an unsustainable whole lifecycle cited by ministers as a reason for refusing a major scheme

Henrietta Billings
Nicholson also questioned what would happen if the view from the Tulip were to be eclipsed in a few years by future towers. There would be little motivation for a redundant attraction to be disassembled by its overseas-based owner and no incentive for other developers to buy the site since it was too small for a normal office tower. This would potentially saddle the City with a "problematic" 305m shaft of degrading concrete, he said.
Nicholson's report also listed as reasons for rejecting the scheme its design quality and the "considerable harm" it would do to the setting of the Tower of London World Heritage Site.
But it was the inclusion of carbon as a material consideration that has stimulated the most debate.
"This is the first time we've seen excessive embodied carbon and an unsustainable whole lifecycle cited by ministers as a reason for refusing a major scheme," said Henrietta Billings, director of campaign group Save Britain's Heritage and a qualified town planner.
"We hope it will mark a step change in the way large-scale proposals are assessed – including schemes involving wasteful demolition."
Rab Bennetts, co-founder of Bennetts Associates, said relying on objectivity rather than hype made the ministers' decision a big step in the right direction for a city that had pledged to be net-zero carbon by 2030.
"They need to establish policies to make this happen," he said. "The refusal of the Tulip on embodied carbon grounds sets a huge precedent, but this isn't about refusal for all new construction. Each significant new development will have to do the numbers to prove its case, with justification for any demolition and whole lifecycle figures for new-build."
A source at a large practice with a number of UK towers under its belt called the decision a milestone and, while sympathising with Fosters, privately described the precedent set as "very positive".
Responding to news that the Tulip team is locked in discussions over whether to go back to the drawing board in a bid to rescue the £500m project, the source added: "Wouldn't it be a turnaround if Fosters were able to come back with a sustainable building that turned the ruling back on the planners by forcing them to approve non-standard construction materials."
Planning lawyer Lydia O'Hagan, an associate at Charles Russell Speechlys, said the decision "may be a sign of more difficult times to come for tall buildings". She added: "Steering tall buildings through the planning system is likely to become increasingly difficult with the recent adoption of the new London Plan and upcoming developer taxes."