St Paul's project will reuse structural frame but significantly alter building's profile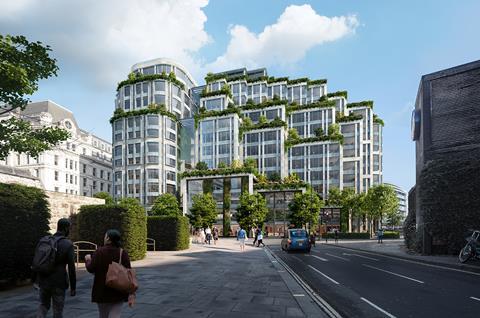 KPF has won planning for the retrofit and expansion of BT's former headquarters near St Paul's Cathedral.
The 1980s building, which takes up a whole city block just to the north of Paternoster Square, will be reconfigured into a mixed-use building with large, flexible office floorplates, retail and a roof garden with a restaurant.
Its massing will change considerably, with a portion of the front removed to reduce its impact on key views and new bays added stepping down from north to south creating accessible terraces.
The building's structural frame will be largely retained and extended to increase the commercial office space to more than 67,500sq m. This will be serviced by filling in the existing entrance atrium with new cores. The practice said three full-height slot atria topped by skylights would provide the circulation and mark the main entrances.
John Bushell, design principal at KPF, said the project, 81 Newgate Street, continued the practice's long-term interest in reuse – from the World Bank in Washington, completed in 1996, to more recent projects in London, such as Unilever House, South Bank Tower and a collection of projects in Covent Garden where its London office is located.
He said: "The mixture of reuse and invention generates projects with great character, preserving history while allowing for vigorous renewal and making substantial savings of embodied carbon."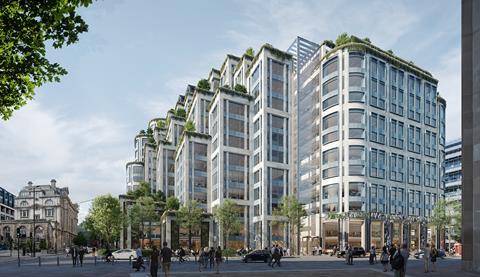 Reusing the BT Centre would also save up to three years of demolition and new construction. He said the environmental performance of the building would be improved and its environmental impact minimised by reusing Portland stone from the existing building, employing modular construction methods, specifying low-carbon materials and adopting a zero-to-landfill policy.
"Additionally, the development aims to be air quality neutral when completed, to provide one of the highest 'urban greening factors' in London and to be the first net zero carbon enabled office development in London," he said.
The conversion of the BT Centre is being carried out for Tejat V Lux Sàrl, advised by Orion Capital Managers and Pella Real Estate Partners. It will also include a gym, spa and swimming pool.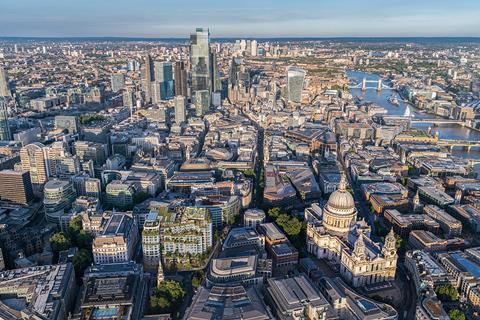 It was approved by the City of London Corporation which said animating the building would fit into its Culture Mile programme linking Tate Modern, St Paul's Cathedral, the new Museum of London and the City concert hall.