Forked 50m crossing links Bristol districts with 'masked ramp' design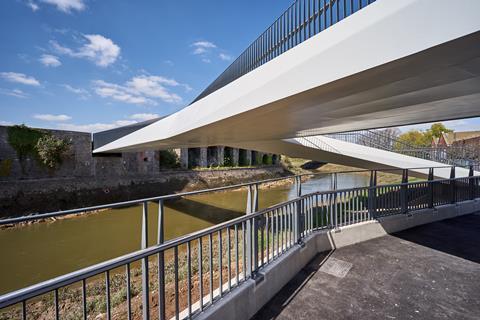 Knight Architects' new St Philip's Footbridge across the River Avon in Bristol links two parts of the city with a structure that masks the extent of their differing heights.
The 50m span birdge, created in conjunction with Jacobs, disguises the difference in height between its two ends with a horizontal design that covers the constant gradient of its walking surfaces.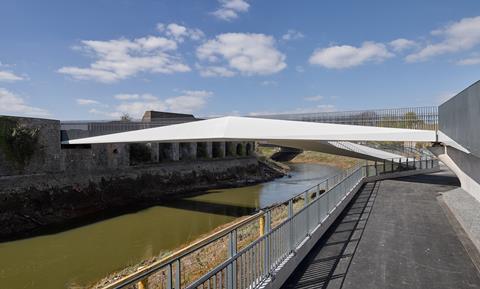 Associate bridge designer Héctor Beade-Pereda said the steel-beam design – created for Bristol City Council – had been a less straightforward project than it appeared.
"This has been a complex and challenging project because of the very nature of its situation, however we are delighted that a beautiful and understated piece of design has emerged as a central piece of infrastructure to link two areas of Bristol," he said.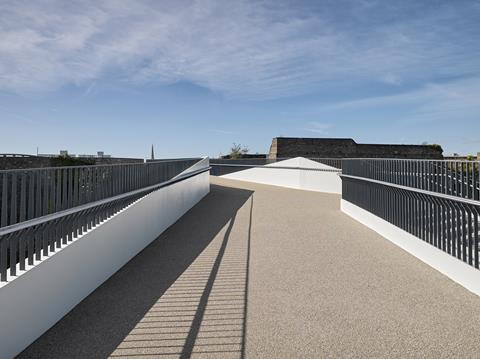 "The team has enjoyed working through its evolution and we look forward to seeing the new footbridge settle into its surroundings over the coming years."
He added that the bridge's form was clearly legible for users and viewers, while the solid-but-slender geometry made it a quiet addition to an eclectic townscape, bringing visual order.