City of Drammen signs off detailed design contract for project with Saaha Architects
Knight Architects' proposals for a landmark new bridge in the Norwegian city of Drammen have taken a major step forward.
The city has awarded the practice – along with Oslo-based Saaha Architects and engineer Degree of Freedom – a contract for detailed design work to deliver the structure, which will span the Drammen River and adjacent railway lines.
Knight won the design competition for the structure in 2018, but the contract for further development ahead of the start of construction work in 2022 was only signed by the newly elected mayor of Drammen Monica Myrvold Berg late last month.
The practice said the design team has been strengthened with the addition of Norconsult for the preliminary and detail design stage.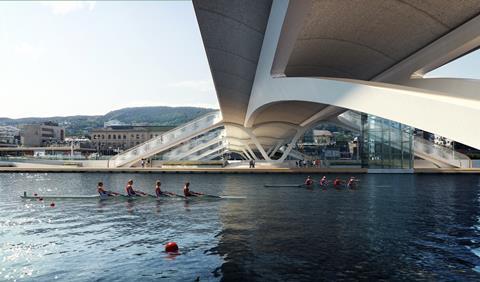 Knight said the project team would also create a temporary pedestrian and cycle bridge across the river, upstream of the current city bridge, which will be used during the demolition of the existing structure and the construction of its replacement.
Drammen is around 35km south west of Oslo.