Chorister boarding house project involves grade I and II buildings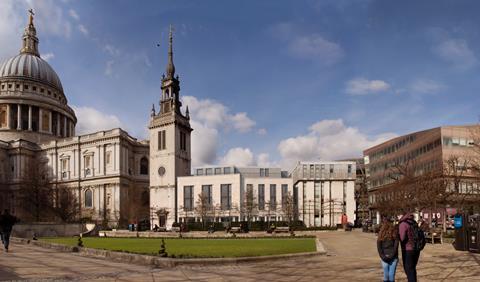 Work has begun on Kilburn Nightingale Architects' boarding house for the choristers of St Paul's Cathedral in the City of London.
The plans, for St Paul's Cathedral School, involve grade I and grade II listed buildings.
The design will raise three floors of accommodation above the playground, with two to be used for choristers and the third for staff.
Work will also see the reconstruction of a dining hall extension, with the roof to be used as additional play space. The hall will be connected to the main playground via a steel and timber bridge.
The new boarding house will replace the nave of St Augustine's Church, linking the grade I-listed St Augustine's Tower with the existing grade II-listed boarding house.
St Augustine's was destroyed in the Great Fire in 1666, rebuilt to Christopher Wren's design in 1680-96 and then bombed during World War II in 1941, leaving only the Wren tower.