Durham's landmark student union was slated for demolition and even threatened with immunity from listing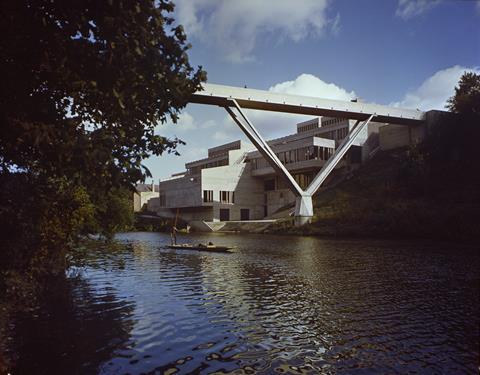 Update | Statement issued by Durham University this afternoon:
Professor Stuart Corbridge, vice-chancellor and warden, said: "Durham University is a responsible custodian of a large and historic estate. We manage over 300 buildings, 62 of which are listed, and we also jointly manage a World Heritage Site with Durham Cathedral. We take decisions on the future of our estate with great care and following wide consultation with interested stakeholders and the public. The Secretary of State's decision to list Dunelm House as grade II, which notes there are divided opinions on brutalist buildings, has given us much to consider as we shape our future investment strategy. We will now carefully work through options for the building, while continuing to work in partnership with our students, staff and stakeholders."
Dunelm House in Durham has been listed after a long battle led by the Twentieth Century Society.
The brutalist building whose five concrete storeys cascade down the steeply wooded banks of the River Wear next to Ove Arup's grade I-listed Kingsgate Bridge, has been given grade II protection.
The minister's decision represents a significant reversal of fortune for the 1966 building designed by Richard Raines of the Architects' Co-Partnership, under the supervision of Michael Powers. In 2016 the university applied for a certificate of immunity from listing (COI) and announced plans to demolish it as part of a redevelopment.
The university's consultants argued that Dunelm House was in poor condition, as a result of which it was under-used, the original design was inflexible, the concrete of the structure was failing and the roof had never worked properly. These claims were strongly disputed by C20 and Historic England.
C20's first attempt to get the building listed at II* failed as did its first request for a full reappraisal.
It then submitted a second, accompanied by a Freedom of Information request for disclosure of all documentation. This was granted and eventually led to the listing, albeit at grade II.
C20 Society's head of casework Clare Price described it as a triumph.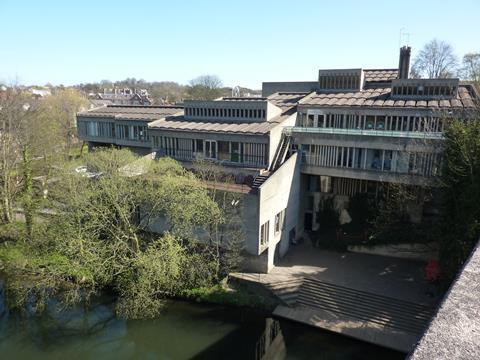 "It is such a striking building in a stunning location and fully deserves recognition at a national level," she said.
"This result makes the hard work and tenacity of all involved worthwhile despite the long wait. We look forward to working with the university to identify ways the building can continue in use as there are so many exciting possibilities for it."
She said the building's issues were not insurmountable and that state of repair was not a valid reason for refusing listing – "a necessary precaution to prevent deliberate neglect".
"Many buildings of this period, listed and unlisted, suffer from problems with concrete, often caused by lack of maintenance or inappropriate repairs. These issues have successfully been resolved in numerous cases," she said.
A crowdfunding campaign was launched in 2017 to fund a design charrette to test and develop alternative futures for the building, led by the Save Dunelm House campaign with support from C20 and Newcastle University's School of Architecture, Planning and Landscape.
Architecture historian Adrian Green said the event had made clear the "outstanding significance" of Dunelm House and its special place in the history of Durham University.
"It was built to embody 1960s values about turning students into cultivated citizens," he said.
He quoted Ove Arup, designer of the neighbouring bridge and founder of the global engineering firm, as saying: "There are two routes to happiness. One is to grab directly, the other is to recognise ourselves in human community."
Green added: "For Arup, Dunelm House and Kingsgate Bridge embody the latter. Dunelm House is a unique 20th-century expression of a long architectural tradition in Durham – of a human community gathered around a cathedral. The building was self-consciously designed to bring about a sense of human community and provides wonderful views of the cathedral. Listing the building not only secures its future but will encourage the appreciation of this international quality building as a cultural asset."
The building won both a Civic Trust award and the RIBA Bronze Medal for 1966, with Pevsner describing it as "brutalist by tradition but not brutal to the landscape… the elements, though bold, [are] sensitively composed".