Crowdfunding bid eyes charrette to explore future uses for brutalist landmark at Durham University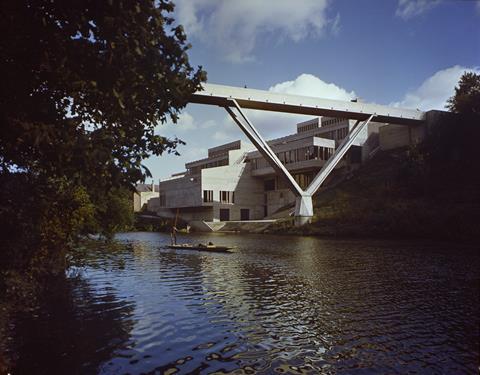 Conservationists fighting to save a brutalist landmark in Durham from demolition are planning a design initiative to find new uses for the building after it was slapped with a certificate of immunity from listing.
The latest bid – now the subject of a crowdfunding campaign – will bring teams of architects from around the country together for a charrette to explore ways Dunelm House, which is currently the University of Durham's students' union building, can be refurbished and adapted for new occupants.
So far the Save Dunelm House Team has raised more than £2,000 towards its target of £7,500 to stage the event and produce campaign materials.
Dunelm House was constructed between 1964 and 1966 to designs by Richard Raines of the Architects' Co-Partnership, under the supervision of Michael Powers.
Despite the building's striking appearance, Durham University's students' union is keen to move to new premises and the university wants to redevelop the site, which connects to Ove Arup's grade I Kingsgate Bridge over the River Wear.
The Twentieth Century Society is fighting to get Dunelm House listed at grade II, because of its architectural significance, but the Department for Digital, Culture Media and Sport has twice determined that the building does not have special architectural interest.
DCMS' most recent rejection of the C20 Society's case accepts Dunelm House was "a thoughtful solution" to its site when it was created, but it says the building lacks "stylistic and structural variation" and that sections of the building suffer from substandard construction.
The C20 Society disputes the decision and is appealing it. The group is also working alongside Save Dunelm House Team and Newcastle University School of Architecture, Planning and Landscape on the charrette project.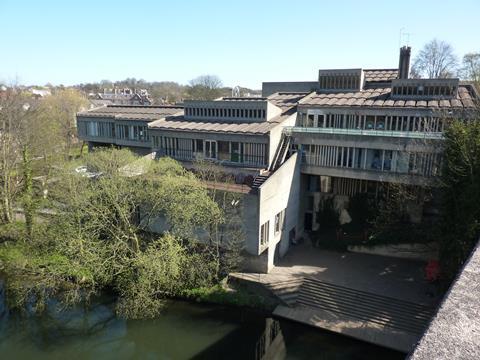 James Harper, of Newcastle-based practice Harper Perry, is leading on the design initiative – which aims to secure its funding target by January 10 in order to host the event early in the new year.
"The charrette aims to fill in the gaps between the desire of the students' union to no longer be based in Dunelm House, and Durham University's decision to pursue demolition," he said.
"There are a number of steps missing in reaching that conclusion, which we aim to challenge by drawing together the expertise of designers, historians and engineers.
"Like all good buildings, Dunelm House is in dire need of long-term investment, not short-term, ad-hoc fixes and least of all demolition.
"I would say as an architect we need to be looking to reuse, recycle, extend or adapt our buildings rather than disposing of them because we don't like the way they look."
C20 Society senior conservation officer Clare Price said she was firmly of the opinion that Dunelm House had no underlying issues that could not be rectified in the interests of preserving the building for future generations.
"Many buildings of this period, listed and unlisted, suffer from problems with concrete, often caused by lack of maintenance or inappropriate repairs," she said.
"These issues have successfully been resolved in numerous cases."
The Save Dunelm House Team's crowdfunding page can be seen here. In addition to offering supporters the opportunity to attend the charrette – in return for large enough donations – the group also plans to stage an exhibition based on the solutions the event produces.