Richard Gilbert Scott building wins grade II status along with Ann and John Kay house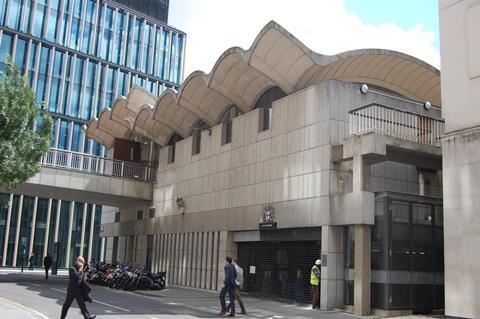 Richard Gilbert Scott's late 1960s extension to the City of London's Guildhall and a bespoke modern home in Clapham have both been awarded grade II status, following sign-off from the Department for Digital Culture Media and Sport.
The 20th Century Society has welcomed their addition to Historic England's heritage list, which in the case of Gilbert Scott's 65 Basinghall Street building came in response to a request for a certificate of immunity from listing that would have allowed for the building's redevelopment.
Gilbert Scott inherited the City of London's Guildhall masterplan from his father Giles and 65 Basinghall Street was the first of his extensions to the Guildhall.
Originally a magistrates court with offices and an exhibition hall, Historic England describes the building as "a creative composition of form and plane, each of its prominent elevations reflecting a different handling of interconnected masses".
It says the structure's most distinctive feature is its concrete shell vaulting "which serves both as a partial roof and open canopy" and "over-sails the elevations, terminating in dynamic mid-flight".
Barely five miles south west, Ann and John Kay's two-storey house at 36 Crescent Grove in Clapham was also awarded grade II status. Designed by the couple and built in association with the architect and timber-construction expert Pat Tindale – who created her own home on the plot next door – the home is clad simply in London stock brick and nestles unobtrusively among its Georgian neighbours.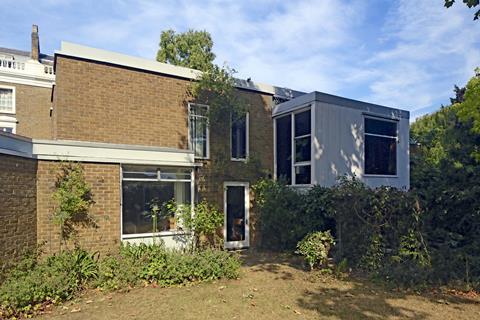 However, the property uses an experimental timber frame which is visible throughout the interior and hints at Tindale and the Kays' interest in alternative construction methods.
C20 Society senior conservation adviser Tess Pinto said 36 Crescent Grove featured a great deal of inbuilt wooden furniture that was custom-made by John Kay, who was also an expert in natural and artificial light and designed a bespoke electric-light system for the dwelling.
"Unusually for the time, the Kays eschewed an open-plan layout, preferring compartmentalised rooms for individual family members," she said.
"Today it stands just as it did when completed – a virtually unaltered 1960s modern house."
Pinto added that while Tindale's home was still next door, it had been "greatly altered".
Gilbert Scott died last year at the age of 93. John Kay died in 1999 at the age of 72; he is survived by Ann.
The listings for Scott and the Kays' work are the latest recognitions of modern architecture this year.
Last month a host of post-war buildings in Coventry city centre were awarded grade II status.
In February listed status was granted to CZWG's The Circle mixed-use development in south London's Shad Thames area and for a Clerkenwell house designed for journalist and TV presenter Janet Street Porter by the practice's Piers Gough.