Campaigners say they will challenge DCMS decision on Durham University brutalist landmark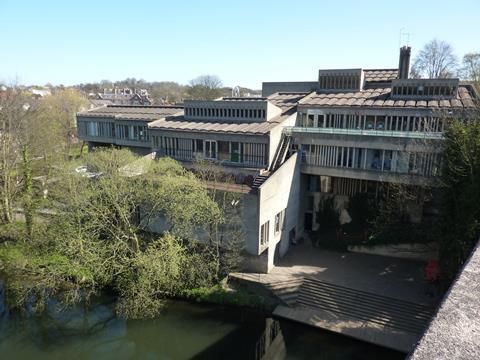 The Twentieth Century Society has reacted with anger to the Department for Digital, Culture, Media and Sport's decision not to give grade ll listing to Durham University's brutalist students' union building.
Culture secretary Karen Bradley originally denied protected status to Dunelm House in December last year, but an outcry over the decision prompted a pledge to review the move – which has now upheld the earlier stance.
The campaign group said it "fundamentally disagreed" with the minister's decision that the Architects Co-partnership building lacked architectural significance and would seek a further review.
"The society considers that this is a unique building and surpasses any other of its date for its response to its setting," it said.
"The society does not consider that issues that have arisen largely due to poor maintenance and changing patterns of use can be considered to be flaws in the original design. As a result, the society intends to request a further review of the decision."
Bradley's original listing refusal had cited "sustained problems" of water ingress as evidence of design flaws in the building when coming to her decision on the 1960s building, which Durham University is keen to redevelop.
The DCMS review response said Dunelm House was "a thoughtful solution to building on a dramatic, but challenging site", and that it made a "positive contribution" to the buffer zone of the Cathedral and Castle Precinct World Heritage Site.
But it concluded: "The minister finds that Dunelm House does not possess special architectural interest."
The letter cited design flaws, a lack of stylistic or structural innovation, a "failure" to meet its construction brief because of variations in the thickness of concrete used in sections of the building, and internal alterations among the reasons underpinning the decision.
The five-level concrete structure was built between 1964 and 1966 by the River Wear to the designs of Richard Raines of ACP and under the supervision of practice partner Michael Powers.
It connects to Ove Arup's grade I listed Kingsgate Bridge, which was constructed four years earlier. Arup acted as structural engineer and architectural advisor and is famously featured in a bust on one of the outside walls.
In addition to winning both a Civic Trust award and the RIBA Bronze Medal for 1966, architectural historian Nikolaus Pevsner called the block "brutalist by tradition but not brutal to the landscape… the elements, though bold, [are] sensitively composed".
This week the C20 Society said it was "seeking all available documentation" on exchanges between DCMS and heritage adviser Historic England, which had recommended that Dunelm House receive protected status.
The DCMS decision letter said a Certificate of Immunity from Listing would be issued in relation to Dunelm House this month subject to any requests for further reviews.