Architect in team with Makower up against BIG, Diller Scofidio & Renfro, PLP and SOM in final showdown for huge Winter Olympics scheme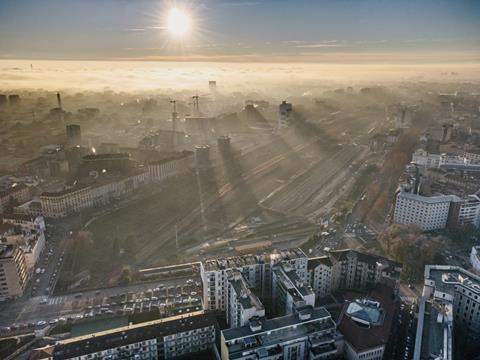 John McAslan & Partners will face off against BIG and Diller Scofidio & Renfro in the final stage of a competition to design the athletes' village for the 2026 Winter Olympics in Milan.
Italian developer Coima has announced the six finalists for the second stage of the competition, which saw 47 teams comprising a total of 329 firms hailing from 14 countries bid for the prestigious job in the city's Porta Romana central south-east district.
The winning team will draw up the masterplan for a €180m scheme providing accommodation for the Olympics at a 217,000sq m site at the disused Porta Romana railway yard.
The scheme will see a 1,000-unit athletes' village built alongside new offices, social housing, student housing and a 100,000sq m park.
The site is one of seven disused railway stations in the city covering a combined 1.25 million sq m which will be redeveloped.
Together, the seven schemes are set to be the largest urban regeneration scheme in Milan for the next 20 years, and amount to one of the largest projects in Europe.
UK firms made up the second largest number of applications in terms of nationality, making up 15% of the teams which applied, behind Italy's 32%. The third best represented country in the competition was the US, which made up 11% of entrants, followed by France, on 9%.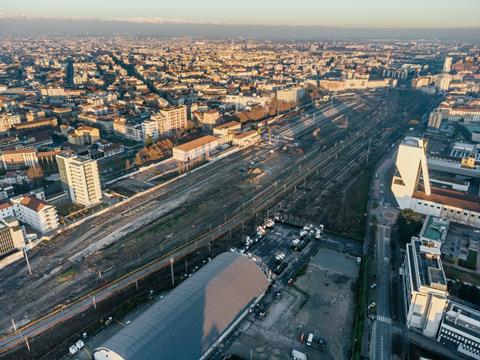 The team headed by John McAslan includes engineering firms Meinhardt and ESA Engineering, cultural consultancy Barker Langham, London practice Makower Architects, New York practice Urbn'ita and landscape architect Michael Van Valkenburgh Associates.
Diller Scofidio & Renfro is on a team consisting of Outcomist, PLP and Carlo Ratti Associati along with engineering firms Arup and Aecom.
The other practices to make it to the final hurdle are Cobe A/S, SOM and Studio Paola Vigano.
Coima said that the final shortlist had been increased from five to six due to the "excellent quality" of the applications, with finalists selected based on the interdisciplinary skills of the working groups, experience in comparable projects and the project methodology presented.
The overall winner is due to be announced after the competition's second phase wraps up on 31 March this year.
The chosen masterplan will then go to a consultation and a technical analysis conducted by the Municipality of Milan and the organising body, which consists of Coima, developer Covivio and luxury fashion brand Prada.
Coima is responsible for the Oympic village, with Covivio developing the scheme's offices and Prada focused on the scheme's huge park, which, along with other green spaces, will make up 50% of the site.
The Porta Romana district where the railway site is located translates to "Roman Gate", and was originally the main ceremonial entrance through the ancient Roman walls of the city.
Shortlisted finalists
BIG - Bjarke Ingels Group, Buro Happold, Atelier Ten, MIC - Mobility in Chain, Atelier Verticale, Ubistudio, SCE Project
Cobe A/S, SD Partners S.R.L., TRM Group S.R.L., AKT II, Hilson Moran, Urban Foresight
John McAslan & Partners, Meinhardt, Barker Langham, Makower Architects, Urbn'ita, MVVA, ESA Engineering
OUTCOMIST, Diller Scofidio + Renfro, PLP Architecture, Carlo Ratti Associati, Gross. Max, Nigel Dunnett Studio, Arup, Portland Design, Systematica, Studio Zoppini, Aecom, Land, Artelia
Skidmore, Owings & Merrill (Europe) LLP – SOM, Michel Desvigne Paysagiste (MDP), TSPOON, Work in Progress srl. (WiP), Drees & Sommer (DRESO), Elisabetta Lazzaro, United Consulting srl
Studio Paola Viganò, Inside Outside, OFFICE KGDVS, Piovenefabi, Ambiente Italia, F&M Ingegneria, TPS PRO, Antonella Faggiani - Smart Land Srl
Selection board
President: Gregg Jones (Design Principal, Pelli Clarke Pelli Architects)
Manfredi Catella (CEO & Founder, Coima)
Simona Collarini (Director of General Urban Planning Department, Comune di Milano)
Alexei Dal Pastro (CEO Italy, Covivio)
Bruno Finzi (President of the Order of Engineers, Milan Province)
Carlo Mazzi (President, Prada)
Laura Montedoro (Associate Professor, Architecture and Urban Studies Department, Politecnico di Milano)
Deputies
Ezio Micelli (Full Professor of Estimo and Economic Evaulation of the Projects, Università IUAV di Venezia)
Carlotta Penati (Counselor of the Order of Engineers, Milan Province). Single Officer of the competition is Arch. Leopoldo Freyrie.