Project linking Camden Town with Kings Cross include gardens, cafés and arts space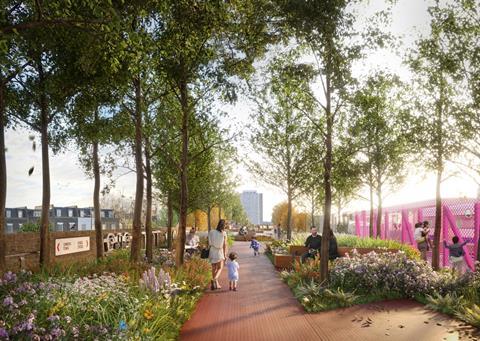 James Corner Field Operations and Camden-based vPPR Architects have submitted their proposals to turn a disused railway viaduct into north London's equivalent the New York Highline.
Corner – whose practice was responsible for the celebrated US scheme – won a design competition for the 1.2km project to link Camden Town with Kings' Cross last year. Field Operations' team includes vPPR, garden designer Piet Oudolf and artist and curator Hew Locke.
The community-driven initiative will create walking routes between local neighbourhoods, deliver a new international visitor attraction for London, and boost biodiversity in the capital. The project team predicts that when it is complete, the new route will bring in an additional 2m visitors a year to the area, and deliver a £16m annual boost to local businesses.
The plans submitted to Camden Council are for the first phase of the project, linking Camden Gardens to Royal College Street. The Camden Highline is expected to open in stages from 2025.
Lead designer Corner said he was "extremely excited" to be progressing the scheme, which will run alongside tracks still in use by London Overground and freight services.
"The design is intended to celebrate and amplify the unique characteristics of the railway viaduct, dramatising movement and discovery, set within a sequence of woodlands, meadows, and gardens," he said.