List 'both upsetting and enlightening', says group's president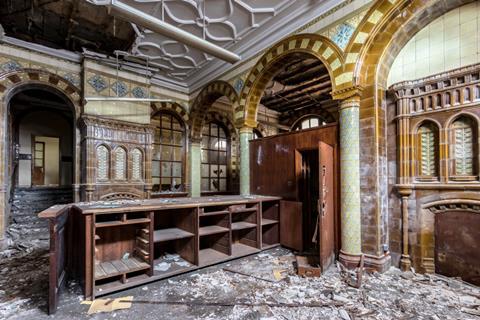 The Victorian Society has unveiled its annual list of the top ten most endangered buildings from the Victorian and Edwardian eras across England and Wales.
This year's at-risk buildings include an office in Oldham designed by Natural History Museum architect Alfred Waterhouse, a hospital in the heart of Marylebone, and a Baroque copper domed church in Wolverhampton.
All of the buildings are grade-II listed and are at least partially vacant, with some having stood empty for decades.
Waterhouse's red brick former office building for the Prudential Assurance Company, built in 1889, features a lavishly tiled interior designed to impress its Victorian customers. Despite the fame of its architect, who also designed Manchester Town Hall, it has not been maintained and is rapidly deteriorating.
The Samaritan Hospital for Women in Marylebone, built in 1890 and once one of the country's most important gynaecological facilities, has been unused and empty since closing in 1997. Foliage growing on its two curved bow windows has recently been removed, but it remains dilapidated and in urgent need of repairs.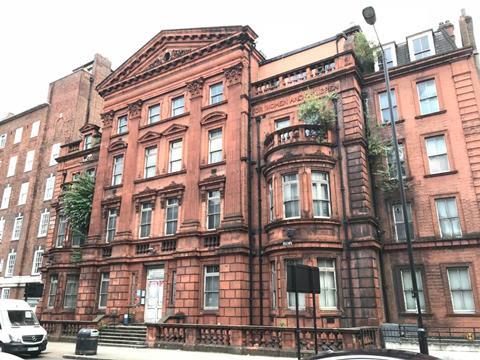 The same fate has afflicted Brighton's 1897 Hippodrome, which has seen a number of proposals for renovation come and go. Converted into a circus in 1901, it was once a thriving hub of entertainment, with a vast circular auditorium complete with a richly decorated ceiling in the form of a panelled tent.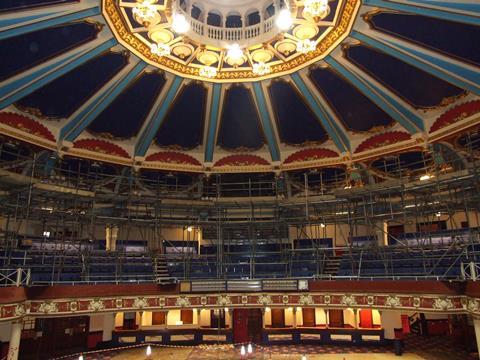 Victorian Society President Griff Rhys Jones said the list was "both upsetting and enlightening."
He said: "These buildings were built with great skill, and they brighten their urban environment.
"Never has there been a time, with the retail sector dealt another blow and the town centre fading as a business hub, for us to recognise that if we want our city centres to continue to be useful, visited and adored they had better look great."
Some of the country's best preserved Victorian buildings can be found in Bradford, but many are still at risk. The former Bavaria Police Station, built in 1877, features a dramatic gothic tower. Although it was made secure and watertight following an Urgent Works Notice from the council in 2003, it is now in need of further repairs.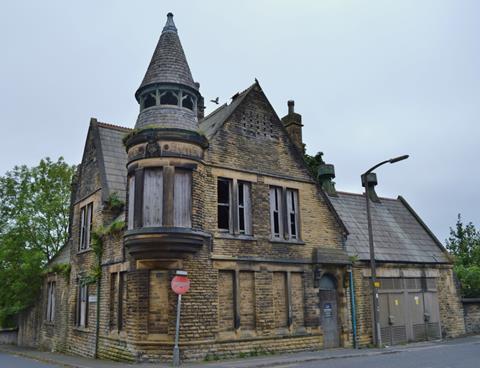 Meanwhile, Wolverhampton's 1902 Methodist Church suffers from a leaking roof and structural cracking after a 2014 fire. Despite its copper dome, twin towers and richly ornamented plasterwork, efforts to find a buyer have failed since its closure in 2019.
Rhys Jones said that where historic town centre buildings have been restored, they often led to wider urban renewal.
He said: "Cities are competitive - and the better preserved are doing better. We need to see these historic monuments playing their parts again. There are hundreds of examples of imaginative reuse to go to for inspiration.
"Let's get on to it, please – the reuse of historic buildings is the sustainable solution to the city centre crisis."