Station is second in central London to reach handover landmark.
Crossrail's Tottenham Court Road station has become the second on the central London section of the route to reach a handover landmark.
Designed by a team involcing Hawkins Brown, Arup and Atkins, the project has been given a T-12 rating – meaning the station is substantially complete and is now considered to be 12 weeks away from being ready for handover to Transport for London. It was built by Laing O'Rourke.
It follows AHR's Farringdon, which reached the same milestone last December.
Work at the station will now primarily focus on the extensive testing and commissioning of systems ahead of next year's delayed opening of the Elizabeth line, the name given to Crossrail.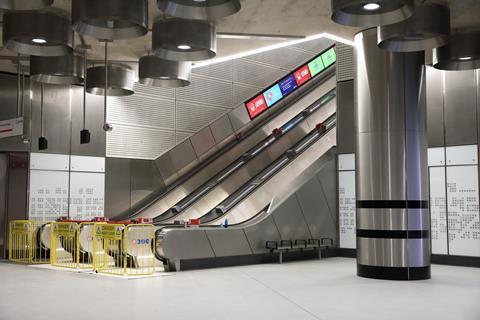 The station's main entrance is on Dean Street. The station is integrated with the upgraded London Underground station which was completed five years ago by Taylor Woodrow and Bam Nuttall.
Crossrail will move into the next major stage of the project, with the start of trial running and intensive testing, later this year.
Crossrail has said the problem central section of the railway – running from Paddington in the west to Whitechapel in the east – is still on track to open in the first half of 2022.