Scheme among eight major construction projects given 'red' rating by government's infrastructure advisor
The UK's top infrastructure advisor has labelled HS2 as "unachievable" in its latest assessment of the government major projects portfolio (GMPP).
In its annual report on the GMPP, the Infrastructure and Projects Authority (IPA) gave "red" ratings to both Phase 1 and Phase 2a of the high-speed rail project.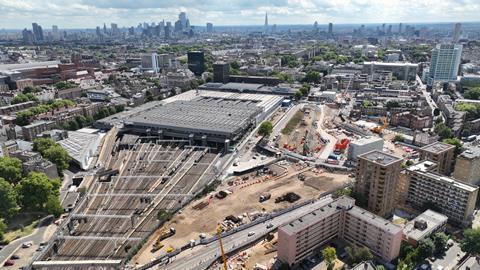 Major projects subject to delivery confidence assessments by the IPA are given green, amber or red ratings each year, with the latter applied to projects that the body thinks need to be re-scoped or reassessed entirely.
This could be due to major issues with project definition, schedule, budget, quality or the benefits of delivery which "do not appear to be manageable or resolvable".
Earlier this year, spiralling costs led leading transport secretary Mark Harper to announce a major re-phasing of the project, including mothballing the Euston site.
This month, the Public Accounts Committee said the decision to freeze work at Euston showed the government "does not know what it is trying to achieve with the station".
The GMPP is divided into four categories – military capability, information and communication technology, transformation and service delivery and infrastructure and construction (I&C) – with the HS2 included in the latter.
IPA chief executive Nick Smallwood said the I&C jobs it oversees had been more severely impacted by recent economic pressures, including stubbornly high inflation and rising interest rates.
"When cost is considered, I&C represents 70% of the GMPP's Red Delivery Confidence Assessment," he said.
"This area has been most impacted by the covid-19 pandemic and the war in Ukraine, which have caused high inflation, reduced affordability and bruised market confidence."
>> Infrastructure authority needs power to refer failing projects to NAO, says Lords committee
The portfolio of projects overseen by the IPA – the government's centre of expertise for infrastructure and major projects which reports to the Cabinet Office and Treasury – increased from 235 to 244 this year, despite warnings from Smallwood that the GMPP was overprogrammed.
At a House of Lords committee hearing in January, Smallwood said the UK was "trying to do too much" and that the IPA was only able to provide active support to less than half of the government major projects portfolio.
There are 76 I&C projects in the GMPP, which together have a total whole-life cost of £403bn.
Eight of these schemes are rated red by the IPA and six are rated green. The vast majority (59) have been given amber ratings, including Northern Powerhouse Rail, small modular reactor development, public sector decarbonisation scheme and the socila housing decarbonisation fund.
The levelling up department's 18+m building remediation programme received an amber rating having previously been rated green, while the Department for Education's T-Level programme dropped from amber to red.