Nick Smallwood tells MPs hybrid working adds months to project timescales, contributing to cost hikes
Infrastructure and Projects Authority chief executive Nick Smallwood has criticised the growth of working from home among design teams for delaying progress with major schemes and ramping up costs.
Nick Smallwood made the comments at an evidence session with members of parliament's Treasury Select Committee when he was being questioned about the red-rating given to the high-speed rail plans in the IPA's annual report on the Government Major Projects Portfolio.
Smallwood said the rating – suggesting a project is "unachievable" within its budget, timescale or both – had followed "significant cost impacts of inflation", including material-price inflation of 26% in one year alone.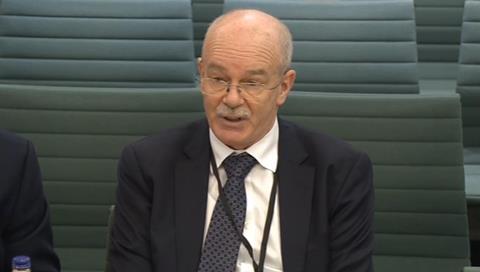 The IPA chief executive went on to add labour-inflation costs into the mix and said working-from-home practices that began during the Coronavirus pandemic had also had a damaging effect on the infrastructure sector.
"I've seen a significant extension of design duration on projects as a result of hybrid working," Smallwood told Tuesday's session.
"Where you had designers in one office all working collaboratively together, the durations were pretty normal.
"What we've seen post-pandemic is a nine-to-12 month extension of those durations. That translates into cost and delay."
Smallwood said that problem was not limited to HS2.
"It's slowing down all infrastructure projects," he said. "They're all impacted in the design phase if those designers don't work directly in the office."
Smallwood added that he believed the scale of the design work necessary to deliver HS2 had been "underestimated" from the beginning of project, because of its "first of a kind" status.
In an update to parliament yesterday, transport minister Huw Merriman said the latest cost estimate for delivering HS2 phase 1 was £49bn-£57bn, measured in 2019 prices. The top end of the range is a £3bn increase on the upper figure quoted by project sponsor the Department for Transport last month.
IPA "not consulted" on decision to scrap HS2's northern phases
Earlier in Tuesday's Treasury Select Committee session IPA head of infrastructure Stephen Dance said the organisation – which is part of HM Treasury – had not been consulted on the government's decision to cancel HS2 phases 2a and 2b, which would have taken the line from the West Midlands to Crewe and Manchester.
"That was a government decision, it was a policy-based decision," he said. "That was not a decision the IPA was involved in or consulted about."
Dance said the IPA had been looking at the costs related to HS2 phases 2a and 2b for some time and had "continued to express concerns" about costs and the way that lessons from phase 1 could be applied to later stages of the project.
"Our job in this context is to advise the government on the deliverability and the commercial reality and the way in which the policy gets delivered," he said.
"It was only two months ago that the decision to cancel was taken. The project has been running, obviously, for some years before that and we have been advising on that during that time."