Twin towers at Vauxhall Cross will reach 185m, breaching local plan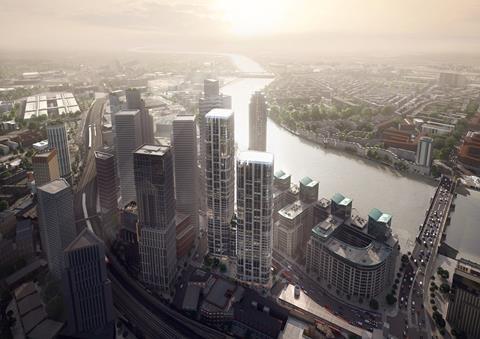 Housing secretary Robert Jenrick has given the thumbs-up to a pair of towers designed by Zaha Hadid Architects for a site on the Vauxhall gyratory that will completely reshape the area.
The towers – one 185m tall and its northern neighbour 151m – breach Lambeth council's local plan which restricts heights in the location to 150m despite identifying it as a suitable spot for towers.
Jenrick said he took into account inspector John Braithwaite's view that the quality of the architecture was "undeniable" and the scheme "outstanding" in townscape terms, as well as the number of homes that would be provided and improvements to the public realm.
A letter from his department said: "He agrees with the inspector that, while there is a technical conflict with the height limit, a number of other buildings taller than 150m have been either built or approved in this area, and that taken as a whole the proposal complies with the [local plan]."
KPF's 56-storey One Nine Elms project, which is under construction nearby, will be slightly taller than the ZHA scheme. That scheme had been due to complete this spring.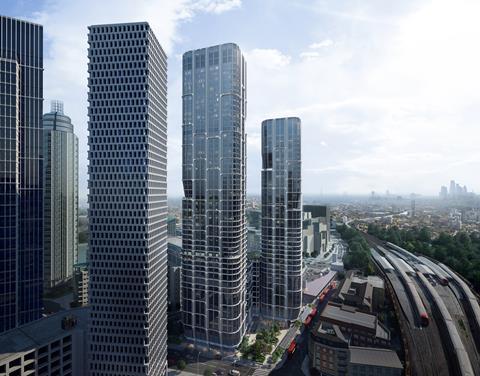 The northernmost ZHA tower will contain 257 flats, including 23 "affordable" homes. The inspector said a section 106 payment of £30m would equate to a further 54 homes off site, making a total of 30% "affordable".
Its taller southern twin will contain a 619-room hotel and office space. The pair will be linked by a 10-storey podium building creating more defined street edges, with ground-level retail.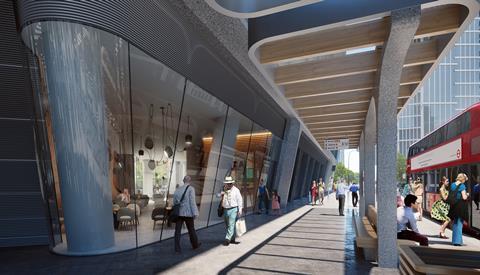 The scheme replaces two previous proposals for roughly the same 0.57ha site by Squire & Partners dating back to 2005 and 2010. The first of these foundered on the affordable housing issue while the second went to public inquiry and was approved by then secretary of state Eric Pickles in 2012. At that inquiry Terry Farrell was called as a witness by Lambeth council to back its case that Squires' 41- and 32-storey towers did nothing for the hostile public realm which it wanted to improve. Michael Squire likened the inquiry to a "prize fight between two architects".
After winning the fight, landowner Kylun sold the site to Channel Islands-based developer VCI Property Holding which initially intended to build Squires' consented scheme. But after discussions with Lambeth and TfL, Zaha Hadid Architects was appointed to come up with a new design addressing some of the council's concerns. The ZHA scheme went in for planning in November 2017, was approved a year later but was then called in by secretary of state James Brokenshire after local objections to its scale.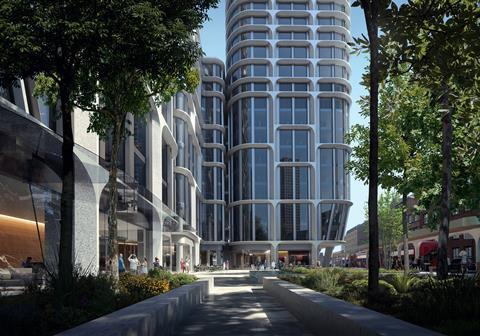 Following approval from his successor, Jenrick, the scheme will lead to the long-expected but controversial demolition of Arup's Vauxhall bus station after a land swap with TfL. This is necessary to allow for the replacement of the gyratory with a more pedestrian-friendly public realm, a long-held ambition of the council and TfL.

ZHA said wider pavements, more pedestrian crossings, a new square by Vauxhall station and a new bus station designed by 5th Studio were all part of the wider plans for the area which is close to Terry Farrell's MI6 building.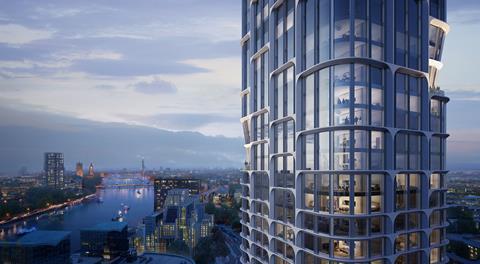 A ZHA spokesman said: "The design responds to Lambeth council's aspirations for a district centre for Vauxhall by creating a vibrant new public square adjacent to the busy rail, underground and bus interchange. The proposal also accommodates TfL's existing plans to upgrade the traffic gyratory and bus station to provide greater accessibility and safety for all."
The scheme was ZHA's largest scheme by area in the UK to date, he added. It would be resourced by the practice's existing staff, he said. Yesterday the firm said it had put 15 of its non-architectural staff on furlough.