Developers' confidence tumbles as crane survey says schemes due to finish this year will be delayed into 2021
The amount of new office space under construction in central London has hit an all-time high – but developer confidence has collapsed in the wake of the covid-19 pandemic.
Construction started on more than five million sq ft of new office space in the mostly pre-pandemic six months to March 31.
According to the London Office Crane Survey, the biannual construction survey by Deloitte, 45 new schemes broke ground in the capital – almost double the long-term average.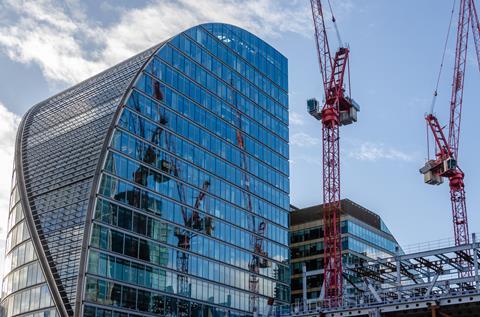 Mike Cracknell, director at Deloitte, said much of the confidence came from the Conservatives' emphatic election victory in December after a long period of Brexit-fuelled uncertainty.
He said: "The high volume of new construction starts in this survey reflected a surge in optimism on the back of much sought-after political certainty as well as significant confidence in the London office market."
But he added: "This sentiment has now dramatically shifted as [covid-19] halted activity and central London offices remain largely unoccupied."
The overall amount of office space currently being developed in the capital is 15.3 million sq ft across 112 schemes. This represents a 29% hike on the previous survey and is higher than the long-term average by 41%.
Deloitte Real Estate also interviewed developers at the end of March, a week into the government's lockdown, and all said they expected demand for their space to be worse in the coming months.
Cracknell added: "Delays are twofold in light of the covid-19 pandemic – construction activity having been suspended and occupiers deferring letting new space.
"We expect at least three to six months of delays with interruptions in construction programmes, supply chain delays and labour shortages. The crane survey suggests many of the new offices expected to complete in 2020 will be postponed until next year."
The research showed that 10 office schemes that were on the verge of starting construction in mid-March were now under review.
Deloitte said schemes that were already underway were unlikely to suffer permanent halts to construction.