Renewable energy firm picks Patrik Schumacher design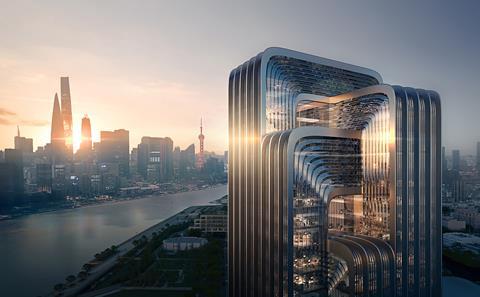 Zaha Hadid Architects has won an international design competition to create a new headquarters building for a Chinese renewable energy firm.
The brief from the China Energy Conservation and Environmental Protection Group (CECEP) asked for the project to be the city's "greenest" building.
The 218,000sq m campus next to the Yangpu Bridge over the Huangpu River will comprise three office towers plus shopping, dining and leisure facilities linked by a publicly accessible park.
The design is credited to principal Patrik Schumacher with project directors Satoshi Ohashi and Michele Pasca di Magliano and project designer Maria Tsironi among the senior team members.
The building picked up more than 90 credits in China's Three Star Green Building Rating system, the highest score for any building in Shanghai, said a ZHA spokesman.
Sustainable measures include rainwater harvesting to irrigate extensive landscaping, use of locally prefabricated components and prioritisation of recycled components.
Photo voltaics on the roofs and facades are connected to battery storage and a micro-grid to provide on-site energy production that is set to reduce energy consumption by 25%.
The building will also use thermal ice storage for cooling. Ice generated by freezers at night using off-peak electricity will be stored in thermal tanks and then used for cooling during the day to significantly reduce peak daytime electrical consumption.
Ramboll is structural and sustainability engineer, while ZHA is also working with local design institute China Academy of Building Research.