Sage Arena and International Conference Centre at heart of £350m regeneration drive
HOK has received consent for its revised plans for the Sage Arena and International Conference Centre in Gateshead.
The Tyneside venues are at the heart of a £350m regeneration drive for a 5.3ha brownfield site between Foster & Partners' Sage venue and the Baltic Centre for Contemporary Art that is being developed by a joint venture between Ask Real Estate and investment firm Patrizia.
Gateshead Council originally granted HOK permission for its 12,500-seat arena and the conference centre – which will feature 5,720sq m of exhibition space, 2,520sq m of adaptable meeting space, and 17 meeting rooms – in March last year.
However, the project has since undergone changes including the removal an AHR Architects-designed hotel, that was dubbed a "concrete slab" by opponents.
Earlier this year AHR secured planning consent for a nine-storey 344-bed hotel on a plot to the south of the Sage development. It will operate as a "dual-brand" establishment with both a Novotel and Ibis offer.

Under the latest plans for the arena and conference centre, the site previously earmarked for the hotel will become an urban park. Other changes to the 2022 proposals include minor alterations to access arrangements for the venues, and the creation of a smoking room with louvres to replace the previous "smoking terrace".
Members of Gateshead's Planning and Development Committee gave their backing to the updated proposals yesterday.
Council leader Martin Gannon said the approval marked a "major milestone" for the Sage Arena and ICC.
"The development will bring numerous opportunities and benefits to our residents, attracting visitors and creating jobs and bringing millions of pounds of investment to Gateshead and the North East,'' he said.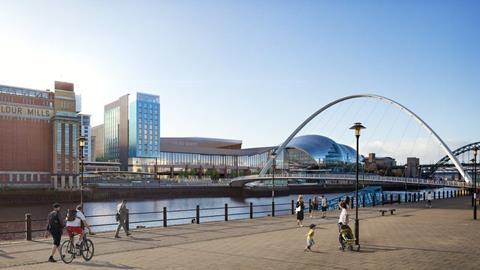 Gateshead said the development represented an investment in excess of £350m. Construction works for the hotel and ICC are due to start this autumn.
The conference centre is due to complete in 2025; the arena is currently expected to open in 2027.
Russell WBHO was announced as contractor for the hotel in June. A main contractor for the arena and conference centre has yet to be confirmed. Quantity surveyor is Core Five; landscape architect is Planit-IE.