Adviser's survey found just 16% of council conservation staff felt very confident about making decisions on retrofit proposals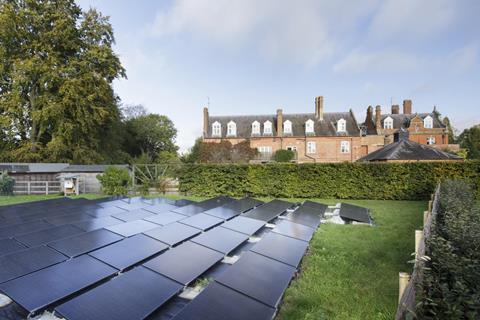 Historic England has published draft advice on how to decarbonise heritage buildings and improve their energy efficiency.
The government's heritage advisor is consulting on a new advice note primarily aimed at people working in the planning process, including local planning authorities and heritage consultants.
It aims to provide "clear and consistent" guidance on balancing climate action with historic building adaptations such as the installation of solar panels, heat pumps, insulation, draft proofing and new windows.
The note also seeks to "dispel some of the myths" around decarbonisation action that can be taken in listed buildings or those located within a conservation area.
It comes after Historic England's local authority staffing survey found just 16% of council conservation staff felt "very confident" in making decisions on energy efficiency retrofit proposals.
Some 59% of respondents also said they had seen the volume of casework about retrofit had increased over the last year.
Historic England is a statutory consultee on all planning applications relating to works on listed buildings or schemes which indirectly affect listed buildings.
The body must also be consulted on any scheme larger than 1,000sq m which affects the character or appearance of a conservation area, and local authorities' own applications for demolition within a conservation area.
The advisor's recommendation on an application can be influential in the council's decision making and the likelihood of the proposals being called in by the secretary of state.
The new advice note outlines common changes needed to decarbonise and improve the energy efficiency of historic buildings in order to help planning authorities make decisions on applications.
It also advises on how local plans and other planning mechanisms can provide a strategy for historic buildings that supports climate action.
Historic England director of policy and evidence Ian Morrison said: "It's not a question of 'if' change can happen, it's a question of 'how', and this new advice will make it clearer for us all to ensure historic buildings are adapted appropriately to respond to the climate crisis.
"We welcome feedback on how the advice note will enable decision making to be more consistent."
The consultation will close at midnight on Sunday 24 December this year.