Tory grandee joins critics of Johnson's 'build, build, build' speech
Former Conservative deputy prime minister Michael Heseltine has added his voice to criticism of Boris Johnson's covid recovery speech on Tuesday, in which he pledged a Roosevelt-style 'New Deal' for the economy but found only £5bn of new money for construction projects.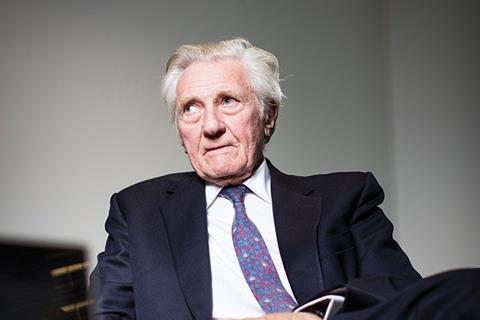 Speaking on the Today programme, Heseltine said he was "deeply disappointed" by the strategy in Johnson's speech, which he branded "naive", saying it would not succeed because of the failure to engage local communities – particularly elected city mayors – in turning around local economies.
Heseltine said only local leaders had the knowledge to identify the specific projects best placed to bring about local regeneration. His criticism matched similar comments made by Labour leader Keir Starmer yesterday, who said that local decision-makers meeded to be engaged.
Johnson's package of support for construction included confirmation of £12bn for affordable housing across the next 5-8 years, £450m for the Home Builders' Fund, and a package of deregulatory planning reforms. This was in addition to funding for social and economic infrastructure projects including road and hospital building programmes.
Heseltine, seen as a pioneer in regeneration work because of his programmes to regenerate Liverpool's waterfront and the London docklands, welcomed the announcement of money for new housing and other construction projects. However, he said the programme "lacked the one thing that is essential, and that is local enthusiasm, energy and enterprise, based on experiences of opportunity that are locally available.
"The glaring omission of the speech is any attempt to draw the leaders of the local economies in to the dialogue, and they are the elected mayors.
He said: "In Scotland, Wales and Northern Ireland [there is] devolved authority, but in London, Manchester, Newcastle, Bristol, Cambridge they are being told the money they can spend and what they can spend it on. It's so naive."
Heseltine said his programme had benefited from the creation of local development corporations, with budgets and planning powers, and "above all else [the ability] to unite the public and private sector".
The government had been expected to include a new wave of development corporations within a raft of planning reforms due this summer, however recent reports suggest the plan for more corporations, which involves a centralising of planning decision-making, has been temporarily dropped in the wake of the continued controversy over housing secretary Robert Jenrick's Westferry Printworks.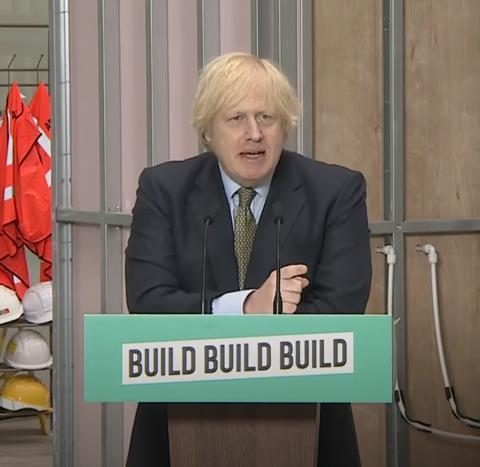 Johnson's speech on Tuesday has been criticised in some quarters for lacking any significant real interventions to match the "build, build, build" rhetoric.
Green groups have criticised the lack of a retrofit programme to insulate existing homes, as called for by the government's climate change advisor, while planners have raised concerns over the trailed desire for "radical reform" of the post-war planning system.
Tom Holbrook of 5th Studio called for a Green New Deal, while RIBA president Alan Jones said he was extremely concerned by the proposal to enable more commercial buildings to become residential without the need for a planning application.
"The government's own advisory panel referred to the homes created by this policy as 'slums'," he said. "It is hard to reconcile the commitment to quality with expanding a policy that has delivered low-quality, unsustainable and over-crowded homes across England."
The government said on Tuesday that a planning policy paper will be published in July detailing radical planning reforms, expected to include plans to introduce US-style "zonal" planning in some form, in place of the existing plan-led system. Zonal systems see swathes of land allocated for certain types of development, with planning automatically granted as long as key conditions are met.
Labour Party leader Keir Starmer said planning needed "more control locally, not less control." He said: "The idea the housing crisis is all about a planning problem is completely misconceived in my view.
"Lets put planning decisions where they belong in local communities, made by local councils, but recognise that we can deal with the housing crisis by putting our shoulder to the wheel to build the houses that have been promised so many times."
Fiona Howie, chief executive of the Town and Country Planning Association, said in response that any attempt to steam roller over people's views would be "divisive and counterproductive", calling the pledge "campaign rhetoric, not real leadership".
In addition, the Royal Town Planning Institute called for a "stable" planning system to enable planners to deliver new infrastructure.
Meanwhile Julie Hirigoyen, chief executive at at the UK Green Building Council, criticised the lack of any reference to energy efficiency in buildings. She said: "a frenzy of building is not equivalent to building back greener" and that current rules and regulations would not achieve this.