Plans for £1.5bn overhaul set for planning submission in coming weeks
Heritage campaigners led by TV comic Griff Rhys Jones have asked communities secretary Michael Gove to call in controversial plans to build a 21-storey tower over Liverpool Street station.
Architect Herzog & de Meuron unveiled its latest designs for the £1.5bn scheme last week, with Shard developer Sellar and Network Rail expected to submit proposals to City planners in the coming weeks.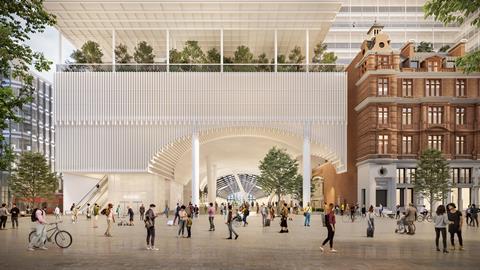 The proposals would see the demolition of much of the existing station, built in Victorian style in the 1980s after a successful campaign against its destruction the decade prior, to make space for more than one million sq ft of mixed-use space.
When plans were initially unveiled last autumn, heritage groups came together to reform the seventies Liverpool Street Station Campaign (LISSCA), which is now calling on the secretary of state to refer the plans to a public inquiry.
LISSCA, which is chaired by the Victorian Society and includes 10 other heritage groups, has claimed that the new tower would set a "terrible precedent" for the treatment of listed buildings in conservation areas and for views of St Paul's Cathedral.
Rhys Jones, who is president of the campaign group, said the final version of the scheme was "as bad as we expected".
"It is insensitive and unnecessary and traduces a famous gateway to London, a listed working part of our history," he said.
"I know all the heritage bodies combined are appalled by the precedent it would set. It must be rejected and we will fight to ensure that it is."
The Department for Levelling Up, Housing and Communities has been contacted for comment.