Practice's east London mixed-use scheme brings together student housing and workspace
Henley Halebrown-designed proposals for an £80m mixed-use scheme in east London that would deliver student housing and commercial space have been approved.
The 2018 Stirling Prize-shortlisted practice's Stour Road proposals, in the Fish Island area of Bow, will deliver two new buildings on a 0.3ha site previously known as the Truman Brewery.
The taller of the two blocks will deliver 330 student bedrooms in a part-six, part-seven-storey building with "incubator" space for small businesses at ground-floor level. A separate five-storey block will be dedicated to commercial space.
It will also provide a secure home for a local arts organisation which narrowly avoided closure earlier this year over rent issues. In its new base, Stour Space will offer free co-workspaces, affordable studio spaces and a gallery.
London Legacy Development Corporation planning officers said the proposals, known as The Vogue, had been through design changes since they were originally submitted, principally to the courtyard layout serving the scheme's 37 shared student flats and six studio apartments.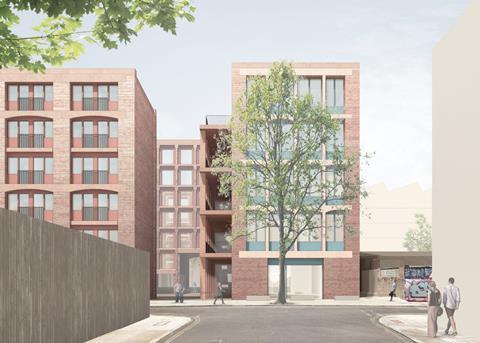 Recommending it for approval, they said the scheme by student housing specialist Future Generation had been subject to a quality review panel assessment that resulted in "strong support" for a development that "promises to be a highly successful addition to Fish Island".
"The principle of the redevelopment of the site is supported in the local plan," officers said.
"Overall, the proposals are considered to be an acceptable use for the site and within the surrounding context.
"The development is proposed to be located on the site appropriately and would be built to a scale and form which would not cause any significant loss of amenity to local residents.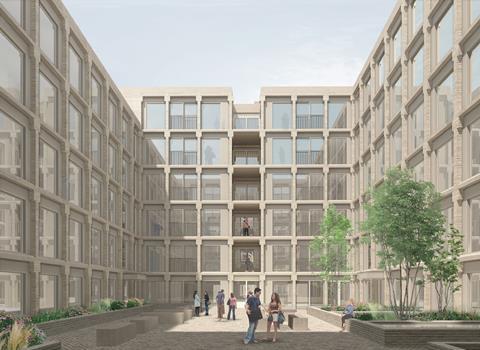 "Officers are satisfied that the proposals would not harm the character and appearance of the Hackney Wick and Fish Island Conservation Area."
They added that Henley Halebrown's proposals echoed "historic details" from the neighbouring Algha Works building and other nearby historic buildings – including upper-floor arched window lintels, setback openings, Juliet balconies and thin-framed metal window casements. During the Second World War, the Algha Works glasses factory made Aviator frames for the British armed forces and the glass for gasmasks. Later it was awarded the contract to make NHS spectacles. Celebrities including John Lennon and Denzel Washington have worn Algha glasses.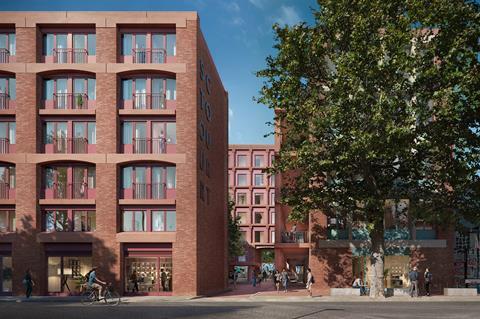 "The proposed building is considered by officers and their heritage advisors to have a complementary appearance with many of the nearby buildings within the conservation area by adding visual architectural interest," they added.
Henley Halebrown earnt a place on the 2018 Stirling Prize shortlist for its Chadwick Hall student accommodation at the University of Roehampton – but Foster & Partners' Bloomberg London headquarters stole the show.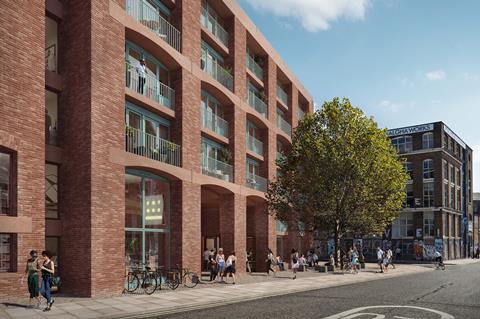 Juliet Can, co-founder of Stour Space, said she was delighted. "It's fantastic that we're going to be surrounded by a vibrant community of young people and we can concentrate on delivering opportunities for the people of Hackney Wick and Fish Island, as well as the wider community, with a sustainable platform through this development."