20-storey scheme due for final sign-off by GLA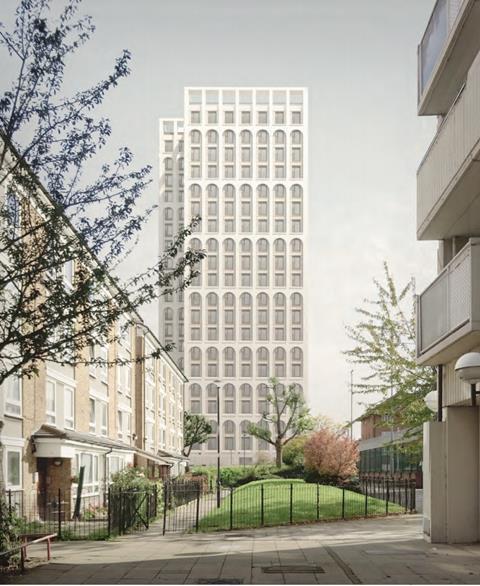 Henley Halebrown's 20-storey residential tower proposed for the centre of a post-war estate in south-west London has been recommended for approval.
The scheme for HFS Developments, a partnership between developer Stanhope and Hammersmith and Fulham council, will now go to the GLA for final sign-off after being cleared by planning officers last week.
The tower's 133 one- and two-bedroom homes will be 100% affordable, with 80% for social rent and 20% for intermediate housing.
Located on Fulham's Clem Attlee Estate, the site was formerly home to 68 flats in a 1960s tower block which had been vacant for seven years prior to its demolition in 2018 due to the presence of asbestos.
The new tower's facade is composed of stacked three-storey concrete arches designed to conceal the height of the building, which is 20m higher than the previous block despite being just two storeys higher – a result of a planning guidance requiring the height of each home to be increased by 0.5m.
Originally recommended for approval in 2017, the scheme was sent back to the drawing board by the High Court last year following a judicial review brought by a local resident, a planning barrister, who objected to its height and overshadowing.
The new tower will retain the name of its predecessor, Edith Summerskill House, which was named after a local MP who served in Attlee's government after the war and was one of the first women to be admitted to medical school. Her grandson Ben Summerskill was chief executive of equality charity Stonewall.
Henley Halebrown was shortlisted for the Stirling Prize in 2018 for Chadwick Hall, an accommodation block at Roehampton University. The practice's recent projects include a mixed-use tower in Hackney, east London, consisting of 68 homes above a 350-place primary school.