Intervention by Robert Jenrick infuriates architect and local authority
Stirling shortlisted architectural practice Henley Halebrown has hit out at the housing secretary's decision to call in its 100% affordable housing scheme in west London after the local MP objected to its height.
Hammersmith & Fulham council's approval of the 20-storey tower, which replaces another tower, Edith Summerskill House in Fulham, will now be re-examined by a planning inspector following Robert Jenrick's intervention.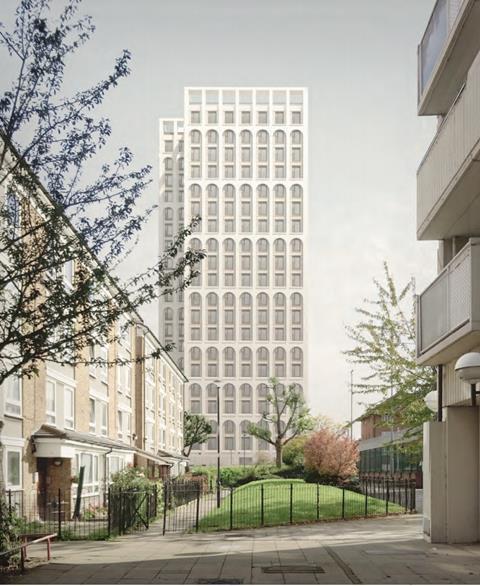 Jenrick acted following complaints about the height of the scheme, including from Greg Hands, local MP and trade minister. Hands responded to the news by tweeting: 'We need more homes - but not more tower blocks - in Fulham".
Jenrick's intervention infuriated scheme architects Henley Halebrown and developer Hammersmith & Fulham Council, who both hit out at the decision this week.
Gavin Hale-Brown, founder of experienced estate regeneration architect Henley Halebrown, said: "We are very surprised to see this scheme being 'called in' given the extensive consultation that has been carried out at all levels over a number of years.
"The project had received full permission at local and mayoral level and is the product of a very collaborative process. We feel that it is a great shame that these desperately needed 133 affordable homes will now be delayed further.
"The building was intended to replace an existing 18-storey tower. The new building has been externally reviewed as an exemplar for safe, high quality public housing."
The planned development, which will sit on the site of a previous block demolished in 2017, will include 133 homes which are 100% affordable, with 80% for social rent and 20% for intermediate rent.
The Ministry of Housing, Communities and Local Government (MHCLG) declined to reveal the full reasons for Jenrick's decision. Ordinarily the secretary of state intervenes in this way only if planning issues of national importance are involved.
Andrew Jones, cabinet member for the economy at Labour-led Hammersmith & Fulham council, which is joint developer of the scheme, called on the government to withdraw the objection "immediately".
Jones said: "After a decade of austerity and a drastic shortage of affordable housing, it's breath-taking that they should now decide to stop the re-development of the former Edith Summerskill House. We're simply seeking to provide new, genuinely affordable homes for local people."
The intervention by Jenrick is the latest in a long-running saga over the scheme, which is being developed by HFS Developments, a joint venture between the Hammersmith & Fulham Council and Stanhope Developments.
The scheme was re-drafted following a High Court challenge last year before being approved by both Hammersmith & Fulham council's planning committee and the Greater London Authority.
MHCLG declined to comment on the decision.