Plans to regenerate internationally-acclaimed modernist estate drawn up with Barton Willmore and Tate Hindle
Hawkins Brown has lodged proposals to regenerate a chunk of south-west London's Alton Estate in a scheme that would deliver 1,103 new homes but require the demolition of a swathe of the exemplar post-war development.
The Roehampton scheme, which also features elements by Barton Willmore and Tate Hindle, would be delivered in blocks of up to nine storeys and include up to 9,572 sqm of community facilities, shops, cafés space and commercial space.
Planning documents submitted to Wandsworth council – which is jointly developing the scheme with housebuilder Redrow – say the development would require the demolition of 288 homes and community facilities, indluding an existing library. (See file for complete footprint)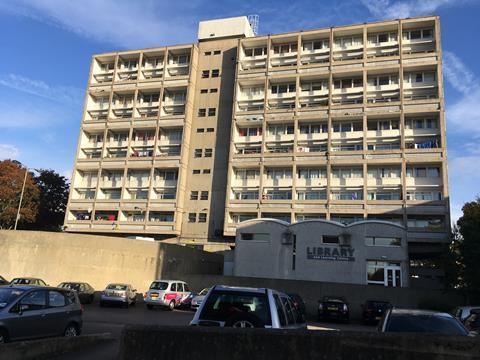 Last year architects including David Adjaye, Richard Rogers and Sacha Lubetkin warned Wandsworth that an important gateway to the estate would be destroyed if the Allbrook House block and its ground-level library were lost.
However, unlike other parts of the estate, the buildings are not listed – despite a request to government heritage adviser Historic England. The call was made by the Twentieth Century Society, supported by the Roehampton Forum, Alton Regeneration Watch and the Putney Society.
Earlier this month the C20 Society included the Alton Estate at No 7 on its latest top 10 buildings-at-risk list.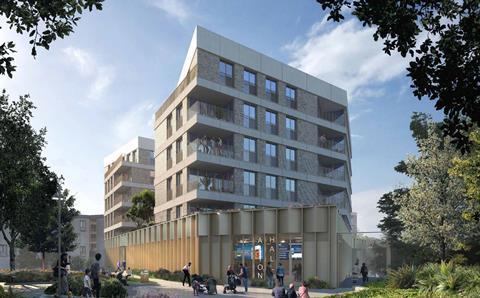 The just-lodged planning application seeks a mixture of outine and detailed consent for the various phases of the proposals – and approval for the demolition work required.
Barnabas Calder, who is senior lecturer in architecture at the University of Liverpool and who grew up nearby, said Allbrook House was the best of all the slab blocks on the estate.
"The proposed demolitions include the original entrance and uniting heart of the Alton Estate, where Alton East and Alton West meet," he said.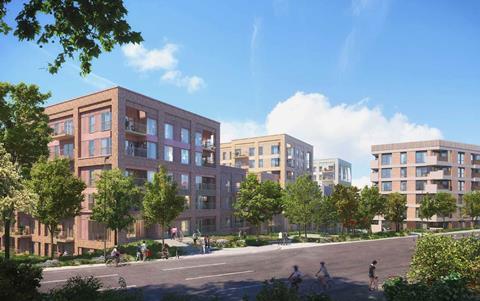 "The loss of the core of one of the world's most admired and influential modernist housing estates would be devastating to both the architecture and the social purpose of the estate."
Calder, who is author of the 2015 book Raw Concrete: The Beauty of Brutalism, belevies the proposals will ave an intrusive impact on views from Richmond Park, and that "very little" of the new homes will be social housing.
According to details in the design and access statement for the scheme, 188 of the proposed 1,103 new units would be for social rent, 68 would be "intermediate" – such as shared ownership – and 847 of the homes would be for private sale.
The document said 158 of the 288 homes earmarked for demolition were social-rent, while 130 had been sold to leaseholders.