Nottingham council approves 5,300sq m School of Art & Design building
Hawkins Brown has won planning permission for a 5,300sq m art and design building for Nottingham Trent University that will combine traditional practice with creative technologies.
The new Nottingham School of Art & Design will deliver workspaces for designing and making, collaboration space, specialist studios and labs, teaching rooms, café space and a public exhibition area. The university gave a project value of £35m for the Shakespeare Street block.
Its site, to the north of central Nottingham, will create a link between the city centre and Trent University's main campus, Hawkins Brown said.
Partner Julia Roberts, who leads on education and research sector projects, said the landmark new building had been designed to provide students with the best possible entry point to the creative industries.
"Our design brings Nottingham Trent University's creative arts subjects together in a single building that breaks down silos between disciplines and creates opportunities for collaboration in both physical and digital practice," she said.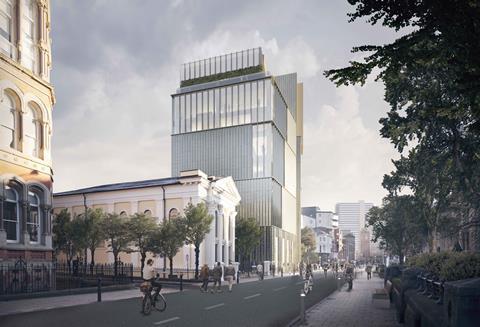 "Using our in-house carbon assessment tool, H\B:ERT, we have been able to evaluate the carbon impact of our choices throughout the design process. This new building for Nottingham Trent University reaches a high standard for sustainability and the university has committed to making it a whole-life net zero carbon university building."
Hawkins Brown said the building has been designed to achieve Breeam "Excellent" and a Display Energy Certificate (DEC) "A" rating, and featured post-tensioned concrete slabs and ceramic cladding to reduce its carbon impact.
It said the Shakespeare Street building would foster interdisciplinary collaboration and social learning between different courses through the use of social spaces and an open staircase to help showcase the different work happening throughout the building.
Large windows at ground-floor level will frame the activities within the building to those outside, drawing attention to the talent at the university, it said.