Dome shaped structure set to open in 2021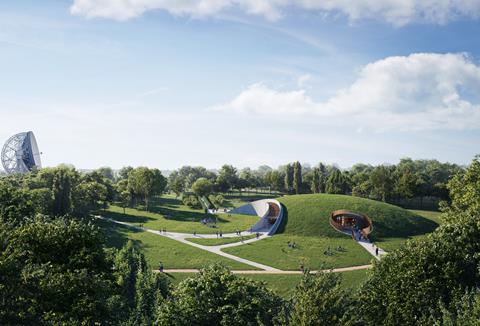 Hassell has revealed designs for a £21m visitor centre at Jodrell Bank Observatory in Cheshire.
"First Light Pavillion" is a circular grass-covered dome seven metres high and 76.2m in diameter, the exact size of the Unesco-listed site's largest radio telescope.
Hassell has worked with exhibition designers Casson Mann and astronomers from the University of Manchester, the project developer, to ensure the single-storey structure feels "connected to the sky."
Visitors will arrive in an entrance space illuminated by a single slot window in the building's south axis, designed so the sun's light will fall directly onto a 'meridian line' set into the floor at noon on midsummer's day.
Visitors will then circulate clockwise through exhibits telling the story of Jodrell Bank's role in the early space age and the history of radio astronomy.
The centrepiece of the space is a 150-seat auditorium "pod" featuring a curved overhead screen for "dynamic and immersive" night sky projections and educational lectures.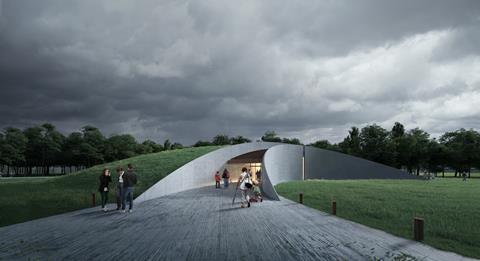 The Lovell telescope (pictured below) was the world's largest and most advanced steerable telescope when it was built in 1957. It was the only one capable of tracking the flight of Sputnik, the first ever man-made satellite launched by Russia in October of that year.
Hassell principal Julian Gitsham said: "To have been part of this team is an exceptional opportunity for Hassell. We have embraced the challenge to push the boundaries of design to deliver what will undoubtedly be a truly exceptional experience for all who visit this remarkable site."
Jodrell Bank director Teresa Anderson said: "The architecture of the building itself is tied to the sky in a way that expresses humanity's long journey towards understanding our place in the universe."
The project is due to complete next year.