Triple-height entrance gallery enables building to face street and park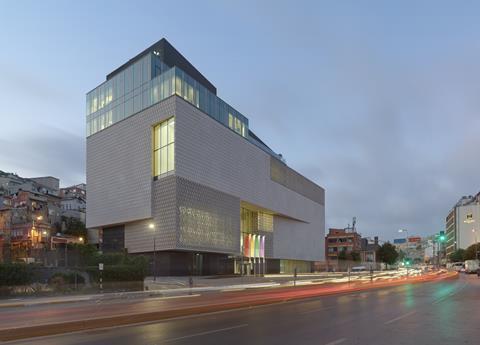 Grimshaw has completed a large contemporary art museum in Istanbul.
The Arter museum opened the doors to its new purpose-designed home for its collection of art and associated activities at the weekend.
Grimshaw, which was appointed after a competition, led a multi-disciplinary team that included local practice Turgut Alton Architects.
Arter was set up in 2010 as a subsidiary of the Vehbi Koç Foundation, one of the first charitable foundations in the Turkish Republic which was created 50 years ago. Its new home in the Dolapdere district replaces its previous home on Istiklal Street, the city's main pedestrian artery for culture and arts.
A triple-height entrance gallery creates a visual as well as physical route through the centre of the museum, connecting Dolapdere Street with the park at the rear. This internal street is the building's main organising element and allows it to face both ways.
There are a number of interlinked spaces which can be flexibly configured as well as two performance halls, one with telescopic seating for 168 and a black box theatre with a capacity of 332.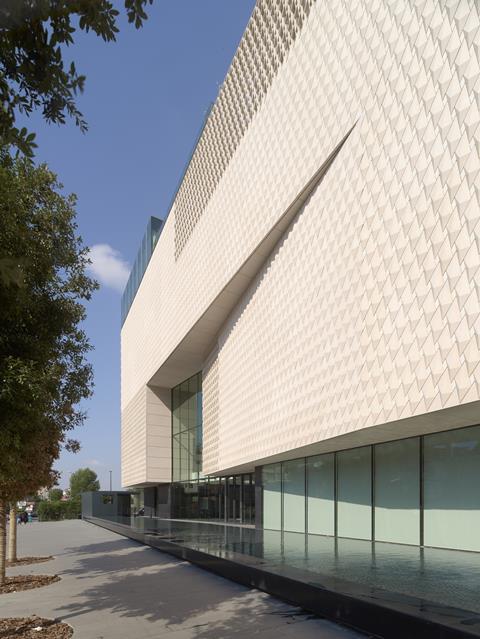 Learning spaces overlook each of the main galleries, allowing discovery and interpretation programmes to remain connected to the exhibitions. These spaces straddle the double-height galleries to reach the outer edge of the building and define punctuated picture windows.
Externally convex and concave rhomboid panels reflect the sun as it moves across the museum throughout the day, giving it a dynamic quality.
Kirsten Lees, managing partner of Grimshaw's London studio, said a layered approach to form and detail rooted the building in the traditions of the city while capturing the surrounding district's new-found confidence.
She added: "The foundation's complex and sophisticated vision for a major arts destination in Istanbul was a thrilling challenge. We worked hard to create a museum that will intrigue, invite exploration and provide multi-layered opportunities for everyone to discover, enjoy and deepen their engagement with the arts."
Melih Fereli, founding director of Arter, said he appreciated the way Grimshaw took the whole team "on board" during the lengthy design process.
The resulting building met Arter's mission of bringing together artists and audiences through showcasing art in many forms and disciplines, he said.