Khan also calls on PM to secure rapid replacement for Benita Mehra, who resigned from inquiry panel at weekend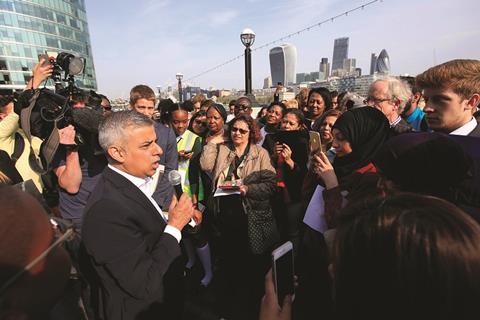 London mayor Sadiq Khan has called for the Grenfell Inquiry panel to consider making interim recommendations on building safety if evidence from the phase two hearings suggests the public is at risk.
In an opening statement to the latest phase of the inquiry into the 2017 fire at Grenfell Tower, which claimed 72 lives, Khan's QC Anne Studd said the anticipated 18-month length of the process would be too long to wait for measures that could prevent additional loss of life.
"We have seen the timetable for the work of phase two and the division of the work into modules," she said.
"There is a great deal to consider. Obviously it is expected that all the core participants will positively contribute to ensuring that all issues are considered thoroughly.
"There are likely to be issues raised which will undoubtedly give rise to consequential concerns about public safety.
"Given the modular structure for phase two, the mayor would support and encourage consideration of interim recommendations at the conclusion of each module if it is thought necessary for immediate action to be taken to preserve life."
Studd also told inquiry chair Martin Moore-Bick and panel member Thouria Istephan – Foster & Partners' deputy director of technical design – that Khan was keen to see the vacancy created by the resignation of Benita Mehra filled in a matter of days.
"We support the bereaved survivors' and residents' desire to have the second panel member in place as soon as possible," Studd said on Wednesday.
"It is, of course, a matter of regret that this has not been satisfactorily resolved and we would invite the chairman to take whatever steps he feels able to take to ensure that this uncertain position is remedied as soon as possible.
"To that end, too, we publicly invite the Cabinet Office to provide an update before the commencement of evidence next week.
"The mayor is planning to write to the prime minister again, asking him to resolve this issue as a matter of priority."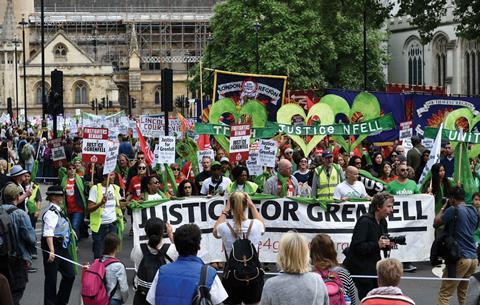 Mehra was only appointed to the inquiry panel in December, after prime minister Boris Johnson revealed that housing expert and AA graduate Nabeel Hamdi was unable to serve as the second panel member.
A past president of the Women's Engineering Society, she was an unpopular choice in the eyes of the support group Grenfell United – which questioned her suitability for the role.
However she stepped down over a 2017 donation made to the WES by the Arconic Charitable Foundation. Products made by Arconic – most notably Reynobond PE – were part of the Grenfell Tower refurbishment.
The mayor of London's opening statement also called on Moore-Bick to consider ways to end the cycle of buck-passing between contractors that the Grenfell tragedy has exposed.
Strutt said: "An additional point that can be divined from the written openings and one which the mayor would like you and your panel to consider is what can be done to prevent the situation that occurred here, where a very large number of contracts and subsidiary contracts have provided an environment where no one corporate participant is accountable for the whole project; where the contractual relationship appears to take priority over the successful – but more importantly, the safe – delivery of the project. And where catastrophic failures can easily be passed off by one contractor to be the fault of another."