Essex development located in coastal flooding hotspot
Stolon Studio has been given the green light for a 215-home flood-proof masterplan in Essex.
Led by project director Robert Barker, a former director of flood specialists Baca who was made a RIBA fellow in 2020 for his work with flood risk and climate change, the scheme in the coastal town of Shoeburyness has been designed to keep residents dry in even the most biblical of scenarios.
Known as Garrison Gardens, the RIBA stage 3 development will include 115 flats, 100 houses, a 10,000sq ft health centre and 4,000sq ft of commercial space, which is envisaged to house a pharmacy and a cafe.
The town, located just east of Southend-on-Sea, is a flooding hotspot. Downpours in August last year saw several streets submerged in water so deep that motorists had to be rescued from their cars.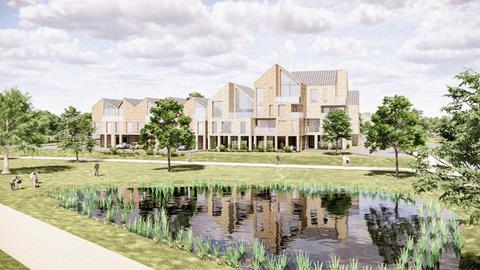 Stolon's scheme is the second designed for the site after a previous planning approval for a 176-home development could not be built when funding to improve the local coastal flood defences, on which the original scheme relied, was withdrawn.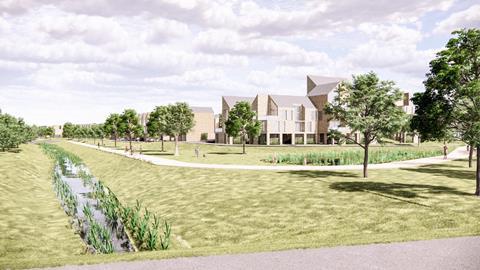 The new scheme, which has been designed along with town planning consultancy Lanpro and engineer Ardent Consulting, will make extensive use of ditches and ponds to absorb water in the event of a flood.
The land in each of the scheme's four neighbourhoods has been raised to 3m above sea level, with a central platform in each neighbourhood raised by a further 3.5m to create a safe haven from the water in extreme cases.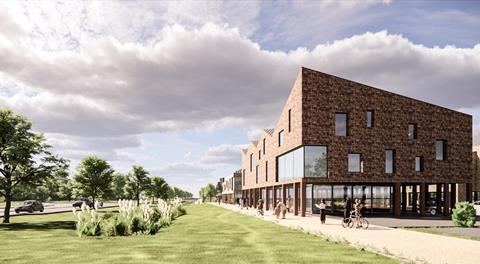 This creates a split-level ground floor, with the house entrances, utility spaces, garages and parking areas located at the lower level and living areas located above.
Stolon said it hopes the scheme will have a "domino effect" by providing a template for future housing projects in the area and other flood-prone regions.
The practice's Barn House scheme in Herefordshire won a RIBA small project award and was featured on the 2018 series of Grand Designs.