Riverside building to be located in Salford's new central business district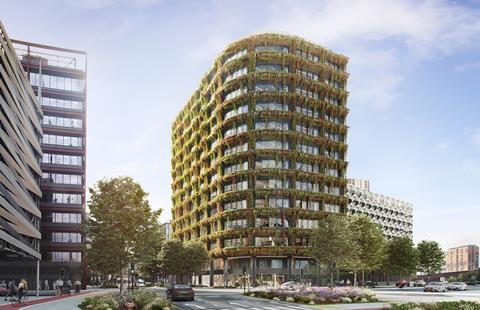 Make Architects has been given the go ahead for a 12-storey commercial building in Salford featuring a full-height living wall.
The developers said the building would be 100% fossil fuel-free, with the ivy absorbing air pollution, reducing nearby temperatures, providing insulation and improving biodiversty in the surrounding area.
The building will also make use of sustainable materials, including recycled steel and cement replacements in its substructure and superstructure.
The architect claims this will result in a reduction of upfront embodied carbon intensity from 1100kgCO2/m2 for a typical development of this type down to 770kgCO2/m.
The scheme, which will contain 10,600sq m of office space, will be located close to Salford Central Station just across the River Irwell from Manchester's central business district.
It will be Ken Shuttleworth's practice's third for the New Bailey masterplan, a new riverside district of city-centre offices and retail space being developed by the English Cities Fund – a joint venture between Legal & General, Muse Developments and Homes England.
Architect Stuart Fraser said the project, which has been designed to achieve the UK Green Building Council's (UKGBC) 2035-2050 office energy performance targets, is on target to achieve a Breeam Outstanding rating.
English Cities Fund projects director Phil Marsden said the scheme would "deliver real environmental and social outputs".
He added: "Despite the unprecedented times we find ourselves in, we're still seeing a demand for high-quality office space, that not only provides an agile environment in which to work that promotes colleague wellbeing, but also spaces that are climate resilient and adaptable to our changing world."