Upgrade work on Kenneth Cross' grade II-listed Seymour Centre will add new fitness studios, library and café
Make Architects has submitted proposals to refurbish a grade II-listed 1930s leisure centre in Westminster, adding a new community library and café in the process.
Designed by Kenneth Cross and completed in 1937, Seymour Leisure Centre in Marylebone was built as a palazzo-style red-brick courtyard block with two swimming pools in concrete structures concealed at the centre.
Westminster City Council's cabinet last year allocated £40m for the building's latest refurbishment, which will include providing a new base for Marylebone Library over two floors. Although the sports centre is owned by the council it is operated by business Everyone Active.
Make's proposals will create open-plan gym space on the lower ground floor and add a new range of studios for spin, aerobics and other classes.
Upgrade work to the Seymour Centre's five-court sports hall will see new flooring installed to make it more accessible for wheelchair users. The spa on the lower ground floor will be enlarged, and all changing rooms will be improved and modernised with new male, female, gender-neutral and accessible changing areas provided. The Seymour Centre's popular climbing wall will also be refurbished.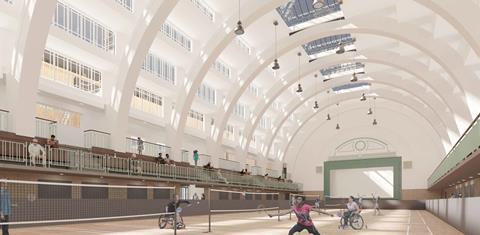 The Seymour Centre originally had two indoor pools, a stage, a spectators' area, a laundry, individual slipper baths, and a flat for the facility's superintendent.
Only the smaller of its two pools now remains. The original "first-class swimming pool" is now the sports hall at the centre of the building.
Make said its proposals sought to "transform the existing leisure centre into a multipurpose, mixed-use building for the community … with vast improvements to accessibility and inslusivity".
"The design seeks to make the very most of the existing building, utilising all underused and redundant spaces, to make the building 'work hard' in offering a fantastic asset for the local community," it said.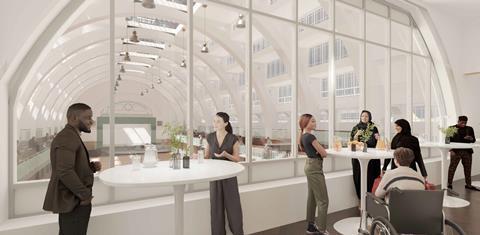 The project will see the removal of the main swimming-pool tank to create space for the new lower-ground-floor fitness suite. Photovoltaic panels will be fitted to the building's inner roof slope and an an ETFE "pillow" roof will be installed above the former courtyard, which will become a soft-play area.
The existing roof lanterns and wind catchers in the sports hall will be replaced with new double-glazed versions, and secondary glazing will be installed on all other sports-hall windows.
The roof lantern above the remaining swimming pool will be replaced with a double-glazed lantern. An external private roof terrace will also be created as part of the project. Additionally, four new passenger lifts and three platform lifts will be installed.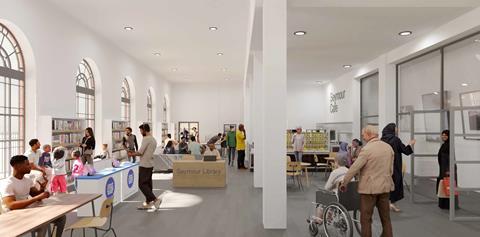 Westminster is targeting a start on site for the project early next year for completion in early 2026.
Willmott Dixon is main contractor; project manager is Hadron Consulting; Donald Insall Associates is heritage consultant.