Project will refurbish and extend Marylebone Road office building as enterprise centre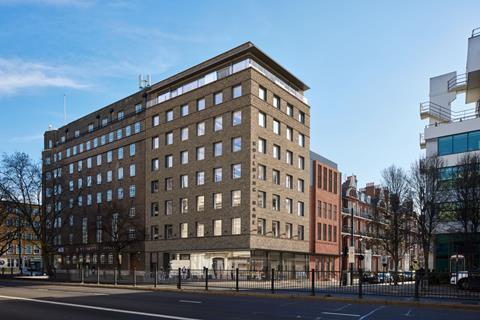 ADP Architecture has secured planning permission for a "deep retrofit" project for the University of Westminster that will convert a post-war office building into a new Centre for Employability and Enterprise.
Under the proposals, which received the unanimous backing of Westminster City Council's planning committee last month, the eight-storey building at 29 Marylebone Road will be refurbished and extended to provide a single, central enterprise and employment hub for students.
Work on the hub – adjacent to the university's Marylebone Road main building, where its School of Architecture and Cities is based – is being funded with a £5.8m grant from higher-education regulator the Office for Students.
It will deliver creative spaces to support collaboration and engagement with local businesses, and event and exhibition space to showcase student enterprise and achievements. It will also host an array of state-of-the-art training facilities, including a digital studio and maker space.
The project will involve remodelling the whole building, the creation of new terrace space, and extensions to house a lift. A five-storey annex to the current building, which fronts Luxborough Street, will also be expanded as part of the work. When it is complete, the new hub will have a gross internal area of 2,839sq m, up from the current 2,754sq m.
ADP Architecture director Dianna Fletcher said the practice's proposals were targeting a 69% reduction in carbon emissions, and that the project would also include bird and bat boxes, plus a green roof for the eighth floor.
"We are delighted to have secured consent for this highly sustainable deep retrofit project," she said. "We have worked with the client and wider design team to resolve serious issues with the existing building around accessibility and escape.
"The new Centre for Employability and Enterprise will be a welcoming and inspiring place that is accessible for all users. The new entrance and opened up ground floor will add interest and activity at pavement level where currently there is none.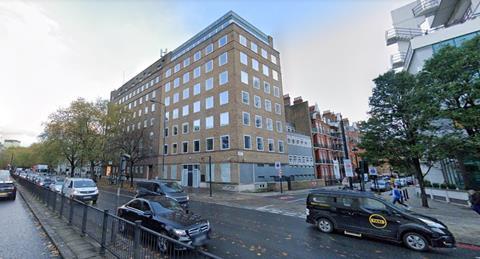 "The replacement infill elevation on Luxborough Street will significantly enhance the streetscape; mediating successfully between the tall corner commercial building and the red brick, decorative mansion block adjacent."
Westminster University said construction work was expected to start later this year, with the new centre's opening planned for spring 2025.