Modular block will provide new office space for south London institution
Jestico & Whiles has won planning permission for a new annex for the Imperial War Museum in London, which will provide additional staff accommodation.
The three-storey block is earmarked for a site behind the grade II-listed museum's existing All Saints Annexe building on Austral Street, and will have an entrance directly onto Geraldine Mary Harmsworth Park.
Jestico & Whiles' scheme will deliver 1,063 sq m of new space for staff that the IWM said would allow it to bring together the core creative and administrative teams for its whole estate in "purpose-built, modern and flexible workspace".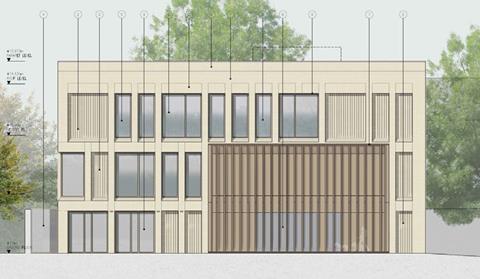 The IWM told Southwark council those teams were currently split between a number of sites and that the project costs and operating costs of the new building would be part funded by a new tenant that would take on the All Saints Annexe.
Jestico & Whiles' design is a part-opaque, part clear-glazed building clad with a "regular array" of bronzed aluminium fins, which would break only around the building's main entrance on the north-west elevation.
Members of Southwark council's planning committee had been advised to approve Jestico & Whiles' proposals at a meeting in October last year, but questions emerged about the conservation status of the park wall that needs to be demolished to make way for the scheme.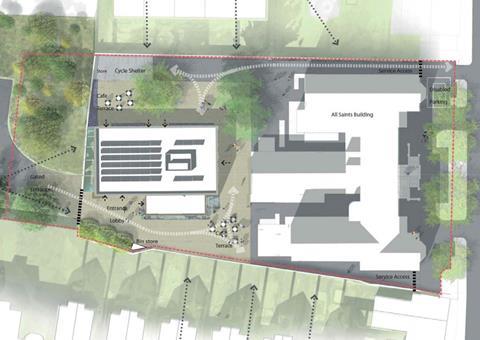 Southwark said its planning officers had taken a "cautious view" and decided to treat the wall as if it were listed, calling for a new listed-building application to be submitted.
Recommending the proposals for approval at a committee meeting earlier this month, officers said the scheme "would achieve a high quality of design" that would preserve the character and appearance of the local West Square Conservation Area and the setting of the museum itself.
"Well-detailed and incorporating a high quality palette of materials, the building would relate sensitively to the historic context while also maintaining the openness and character of Geraldine Mary Harmsworth Park, most of which is designated Metropolitan Open Land," they said.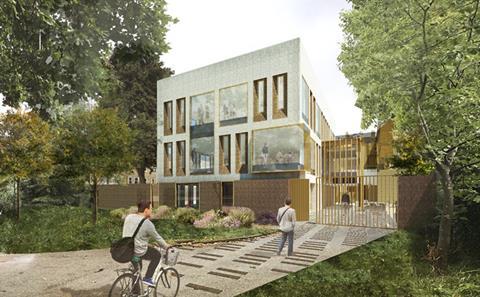 They added that the building's entrance pavilion would be "of striking design" and provide a suitable focal point for those entering the site from the park.
Jestico & Whiles' approved proposals went through some design changes from the version that was originally submitted.
Amendments to the first proposal included reducing the overall number of windows, and in particular the picture windows; altering the design of the "slot window" reveals; and redesigning the "pop-out" window at first-floor level on the western corner of the building.
The report to councillors said the building would be essentially pre-fabricated, and that 80% of it would be completed offsite and installed "over a two week period" to minimise disruption to the museum and local residents.