Hackney council gives 145-room hotel the go-ahead
The architecture practice behind the redesign of Old Spitalfields Market has won planning permission for a new 145-room hotel in the heart of Shoreditch.
Hackney council has resolved to grant planning permission for Jestico & Whiles' new hotel on Paul Street.
The hotel, which is described in the case officer's report as "a bold, architectural gesture which is high quality and considered to be a positive addition within this varied local context", will transform a site that has been vacant for more than 50 years.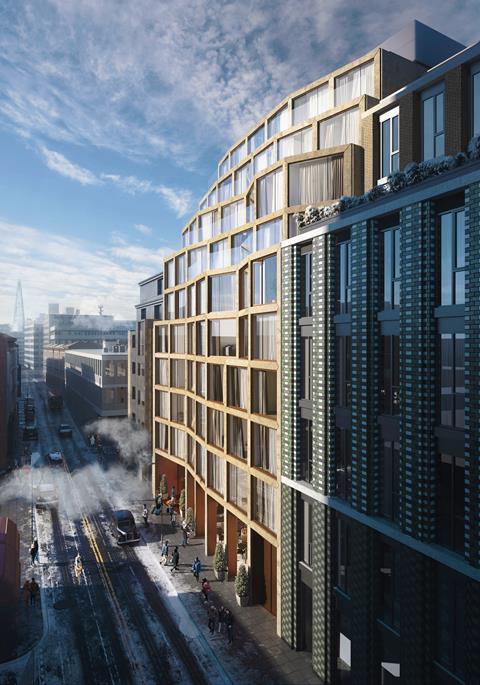 James Dilley, director at Jestico & Whiles, said: "The proposals for the new hotel on Paul Street respond directly to the area's architectural and cultural context in the heart of Shoreditch.
"We're delighted this has been recognised by the London Borough of Hackney and look forward to seeing this increasingly busy thoroughfare through Shoreditch reactivated."
The proposal is in keeping with the streetscape of Paul Street, whereby the height of buildings steps down from north to south, from a maximum height at Leonard Circus.
The proposed building will bridge a gap between the recently consented Development House - a scheme by AHMM - and the existing Clere Street to the south.
The practice said the hotel's design "makes subtle reference to the historic legacy of the craft of joinery and furniture making in the area, with the expression of the facade through visible 'bird's mouth' joints at every junction" which it said was directly inspired by the joints used in traditional carpentry.
Jestico & Whiles, which has been forced to relocate its office because of HS2, said the scheme had been designed to "enhance the pedestrian's experience by reinstating the historic sectional proportions of the street".