Potential workstreams mentioned in 60-page briefing document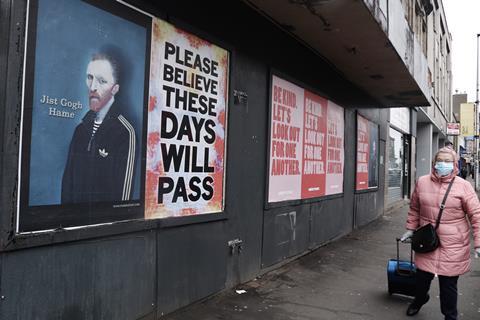 The government has published new guidance to provide clarity over what is allowed in the next phase of its coronavirus combat strategy.
It includes advice on how to adapt workplaces for a gradual return to work. It also hints at possible workstreams for architects. There are references to the need to redesign public spaces and offices to make social distancing easier in the longer term, as well as the intention to significantly boost infrastructure to enable people to walk or cycle to work safely, thus providing realistic alternatives to driving or using public transport.
In an address to the nation last night, Boris Johnson said construction was one of the sectors that should go back to work seven weeks after he brought in lockdown, although in reality ministers have encouraged construction sites to remain open throughout, where social distancing can be observed. Many sites have reopened with limited staff after pausing briefly while bosses worked out how to do this safely.
Called Our Plan to Rebuild, today's 60-page document sets out how the UK will gradually ease lockdown measures.
Here are 10 ways architecture and the wider construction sector will be impacted.
Sources of work
There will be work redesigning offices and public spaces
There will be work up for grabs to help redesign and redesign offices and public spaces to make them safer and reduce the spread of covid-19. The guidance says: "Over time, social contact will be made less infectious by making such contact safer including by redesigning public and work spaces."
Work to build new infrastructure up for grabs
There may be more design and construction work available to help provide cycling and walking infrastructure.
The guidance says the government wants to improve the infrastructure for active travel (cycling and walking). Over the weekend ministers pledged £2bn for "alternative travel" including bringing forward trials of rental electric scooters which have been successful in Paris. The Department of Transport said: "Pop-up bike lanes with protected space for cycling, wider pavements, safer junctions, and cycle and bus-only corridors will be created in England within weeks as part of a £250m emergency active travel fund - the first stage of a £2bn investment."
The government still plans to build 40 new hospitals
The multi-billion-pound plan to build 40 new hospitals across the year is still proposed, meaning a significant pipeline of work. The guidance says: "The government remains committed to delivering its manifesto, including to building 40 new hospitals, reforming social care, recruiting and retaining 50,000 more nurses and creating 50 million new GP surgery appointments."
Furloughing
Changes to economic support measures imminent
The government is set to start to winding back its measures to support firms during the covid-19 crisis. The Office for Budget Responsibility has estimated that the direct cost to the government of the response to covid-19 could rise above £100bn in 2020-21. The government's furlough scheme ends on June 30 but no date has been given for when the initiative will start to be wound down. It said six million workers from 800,000 firms have so far been furloughed.
The guidance says: "As the UK adjusts the current restrictions, the government will also need to wind down the economic support measures while people are eased back to work."
It also says: "The world will not return to 'normal' after covid-19; much of the global economy is likely to change significantly. The UK will need to be agile in adapting to and shaping this new world if the government is to improve living standards across the nation as it recovers from covid-19."
Return to work
Social distancing guidance for workplaces remains 'where possible'
The government is still recommending that workplaces enforce social distancing if at all possible. The guidance says: "Workplaces should, where possible, ensure employees can maintain a two-metre distance from others, and wash their hands regularly."
It also says: "For the foreseeable future, workers should continue to work from home rather than their normal physical workplace, wherever possible," before adding: "All workers who cannot work from home should travel to work if their workplace is open." It mentions construction as a sector that is allowed to reopen.
Firms told to continue with shift patterns
The government has recommended companies introduce new shift patterns, something active construction firms have been doing throughout lockdown.
The guidance says: "Employers can support this where practical by changing shift patterns and rotas to keep smaller, contained teams. Evidence also suggests the virus is less likely to be transmitted in well-ventilated areas."
It adds: "Reduce the number of people you spend time with in a work setting where you can. You can lower the risks of transmission in the workplace by reducing the number of people you come into contact with regularly, which your employer can support where practical by changing shift patterns and rotas to match you with the same team each time and splitting people into smaller, contained teams."
Workers have still been told to avoid public transport
Workers are still being told to avoid public transport wherever possible - something that has been a particular issue for many construction firms working in London. The guidance says: "If they can, people should instead choose to cycle, walk or drive, to minimise the number of people with whom they come into close contact."
Advice to wear face covering in enclosed spaces where social distancing is not possible
The guidance says: "People should aim to wear a face-covering in enclosed spaces where social distancing is not always possible and they come into contact with others that they do not normally meet, for example on public transport or in some shops." It clarifies that a face covering is not the same as medical PPE facemasks which must continue to be reserved for those who need them.
Communal surfaces need to be cleaned thoroughly and regularly
The government has issued guidance to employers on adjustments to workplaces to help maintain social distance and promote hygiene as evidence suggests that the virus can exist for up to 72 hours on surfaces. The guidance says: "Frequent cleaning is particularly important for communal surfaces like door handles or lift buttons and communal areas like bathrooms, kitchens and tea points."
Offices need to be well-ventilated
The guidance says: "Evidence suggests that the virus is less likely to be passed on in well-ventilated buildings and outdoors. In good weather, try to leave windows and doors open in places where people from different households come into contact – or move activity outdoors if you can. Use external extractor fans to keep spaces well ventilated and make sure that ventilation systems are set to maximise the fresh air flow rate. Heating and cooling systems can be used at their normal temperature settings."
International construction workers could be given exemption to post-travel isolation
While the government is introducing a 14-day quarantine for those arriving in the country from overseas, excluding those from Ireland and France, overseas construction workers could be allowed to skip the isolation period.
The guidance says: "Small exemptions to these measures will be in place to provide for continued security of supply into the UK and so as not to impede work supporting national security or critical infrastructure and to meet the UK's international obligations."