Housing secretary tells councils told not to stand in way of requests for longer working hours
Construction sites can open until at least 9pm in order to keep building during the coronavirus pandemic, with the government suggesting some jobs could switch to 24 hour working in order to make up for time lost during the coronavirus lockdown and to help workers follow social distancing protocols.
Housing secretary Robert Jenrick issued a ministerial statement earlier today which instructed local authorities to permit requests to extend site opening hours – usually controlled by planning permissions – unless there are "very compelling reasons" to reject them.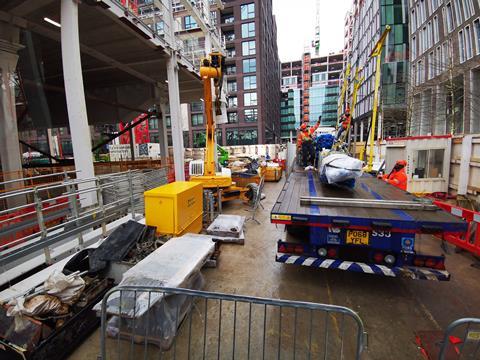 Jenrick said the flexibility on site working hours would mean that sites should usually be allowed to stay open until 9pm on weekdays and Saturday where requested but that Sunday and Bank Holiday working should not be permitted.
And he added: "In some cases, such as in areas without residential properties, extending working hours beyond this, including allowing 24 hour working where appropriate, may be justified."
He said: "Local authorities should not refuse requests to extend working hours until 9pm, Monday to Saturday without very compelling reasons for rejection.
"Applications should only be refused where there are very compelling reasons such as significant impact on neighbouring businesses or uses which are particularly sensitive to noise, dust or vibration, which cannot be overcome through other mitigation, or where impacts on densely populated areas would be unreasonable."
Jenrick said he wanted to see swift decisions from local authorities and added: "[They] should prioritise these types of applications and give early clarity on the acceptability of extended hours to developers. They should ensure that decisions are issued quickly – with the aim of doing so within 10 working days."
It comes after the industry told the government that extended site hours were necessary if construction sites were to reach anything close to normal rates of productivity while keeping to social distancing guidelines.
The requirement for social distancing means that far fewer staff are able to be on site at any given time, while the government has also told employers to stagger workers' hours where possible in order to reduce congestion on public transport.
Jenrick admitted the changes should "ensure that, where appropriate, planning conditions are not a barrier to allowing developers the flexibility necessary to facilitate the safe operation of construction sites during the response to the covid-19 pandemic and to proceed at pace with work otherwise delayed as a result of covid-19".
The news follows the government's decision yesterday to restart the housing market, with guidance issued today allowing most home sales to once again proceed.
The planning system
Jenrick also addressed the other end of construction - the planning system.
Government has already said planning applications no longer need to be publicised through notices at sites. The internet and social media can be used for the first time.
He said: "It's also time that the planning system makes more use of digital technology to operate remotely and efficiently during this pandemic.
"I am determined that the planning inspectorate be at the forefront of this work – I welcome the inspectorate now undertaking its first ever virtual hearings.
"I am asking them to make all hearings virtual within weeks so that the planning system can resume and be made more permanently more accessible and user-friendly.
"This is the most comprehensive restarting of an industry in the first phase of our roadmap."