Meanwhile Glenn Howells aims to regenerate run-down shopping centre
Glancy Nicholls Architects has submitted plans for Birmingham's tallest tower, a 61-storey block of flats.
The 100 Broad Street development, south-west edge of the city centre, will replace a disused office building in a low-rise district but, at 193m, it will eventually be the tallest point in an emerging high-rise cluster.
Glancy Nicholls' two Bank towers, rising to 33 storeys and 102m, are underway and Glenn Howells recently won planning for the 42-storey, 129m Moda tower.
The 100 Broad Street scheme will contain 503 one- and two-bed flats, commercial units on the ground floor and a "sky lounge" with views over the West Midlands. The flats, all classed as "luxury", will conform to nationally described space standards.
The development will also feature a two-storey pavilion housing associated ancillary uses and "high-quality" public realm, said the architect.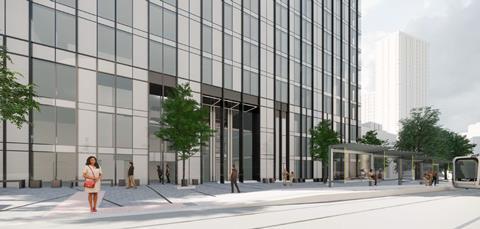 In its design & access statement, Glancy Nicholls said the development, for Euro Property Investments Ltd, had an "opportunity to create a vibrant residential community" in the area and to add an icon to Birmingham's skyline.
Director Adam McPartland said they had sliced the mass in half and slid the two sides slightly to create a slimmer profile, while the positioning of the tower and pavilion "gives activation to Broad Street and sensitive enclosure to the adjacent housing".
"Splaying the gable end of the taller block achieves a dramatic blade-like edge responding to the key site corners," he said. "Uninterrupted vertical fins on the glazing conclude at the slender minimalist cap, giving greater emphasis to the verticality and depth of the fully glazed façade."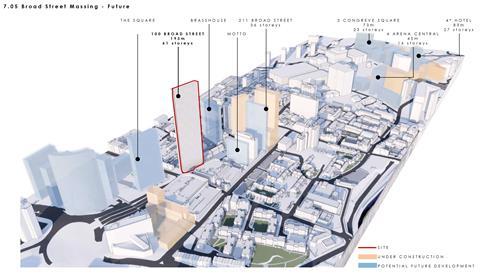 Meanwhile, Glenn Howells Architects has submitted a masterplan for the multi-million pound regeneration of a run-down 7.5-acre site in the centre of Birmingham.
Hammerson's Martineau Galleries scheme, which could eventually contain 1,200 new homes, will replace The Square shopping centre and Dale End car park.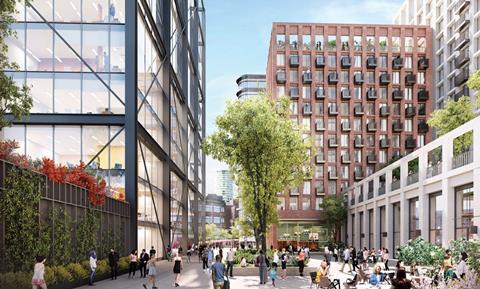 The homes will be part of a mixed-use scheme called City Quarters – which will include retail outlets, a hotel, restaurants, cafes and up to 1.4m sq ft of workspace.
Hammerson, which owns Birmingham's Bull Ring and Grand Central shopping centres, said a public consultation conducted last month had proved "overwhelmingly positive".
Other consultants on the project are landscape architect is Grant Associates with planning consultant Turley.