Opening coincides with half-term architecture festival
Hayhurst & Co's educational facility at the RIBA's Portland Place headquarters opens this week with a half-term Festival of Learning.
The practice won the job of designing the Clore Learning Centre in a competition whose shortlist featured AOC Architecture, Coffey Architects, Delvendahl Martin Architects and Featherstone Young.
The brief was for a dedicated learning centre in the grade II* building where the RIBA could offer hands-on, creative activities to diverse audiences. The institute hopes to double the reach of its learning programme from 10,000 people a year by 2021.
Hayhurst's winning design was described as "delightfully playful" by the judges who were the then RIBA president Ben Derbyshire, chief executive Alan Vallance and Sally Bacon, executive director of donor the Clore Duffield Foundation. Sarah Williams of S Williams Architects was the RIBA advisor.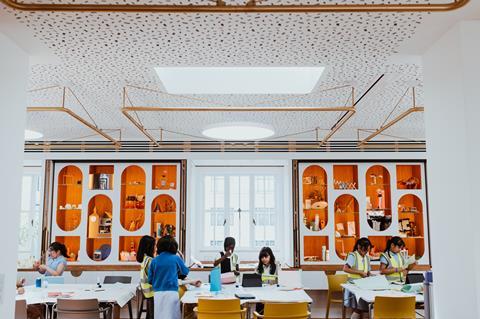 The Festival of Learning runs all week with activities for children and adults.