Competition winner seeks consent for Portland Place alterations
Hayhurst & Co has submitted its planning applications for a new educational facility at RIBA's Portland Place headquarters.
Last year the practice beat AOC Architecture, Coffey Architects, Delvendahl Martin Architects and Featherstone Young in the competition to design the Clore Learning Centre at the grade II*-listed building.
RIBA's brief for the competition called for 365sq m of new space to support hands-on, creative activities for all ages as part of a plan to boost its public education programme, which currently serves around 10,000 people per year.
The new centre, funded by a grant from the Clore Duffield Foundation, will see the reconfiguration and refurbishment of two fourth-floor meeting rooms, along with resurfacing of the existing fourth-floor roof terrace and alterations to the access for the Council Chamber.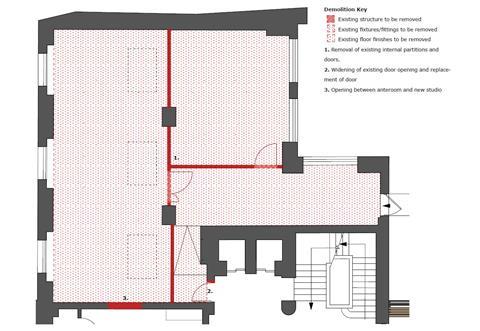 Documents supporting the planning application said original plans for 66 Portland Place, dating back to 1932, showed an opening in the location where Hayhurst's proposals would connect the studio space with the Council Chamber.
"It is believed that this opening was blocked up when the building was connected to the re-built No.68 in 1958," the documents said.
Historic England has already responded to the listed building consent required for the application, indicating that it is content for Westminster council to determine the application in line with national planning policies.
Westminster said it was looking to determine the application by June.
When RIBA announced Hayhursts as the competition winner for the project, it said it expected the centre to open in February 2019.
At the time the competition for the project was launched, RIBA said a construction budget of £348,000 was available, exclusive of design fees, with a further £44,000 available for fixtures and fittings.