Job includes building accommodation block for thousands of workers
A skills centre designed to produce a conveyor belt of workers to build the mothballed HS2 station at Euston has been completed.
The centre on the grounds of the former Maria Fidelis School, incorporating Camden's new Construction Skills Centre, was handed over to the local authority last week.
The repurposed Victorian school sits on the edge of the HS2 site and its new roles will see it accommodate 150 students and 30 staff. It will incorporate workshop spaces, an IT room, classrooms and will house a range of technical equipment. It also inclues an accomodation for the expected thousands of workers needed to build the new station.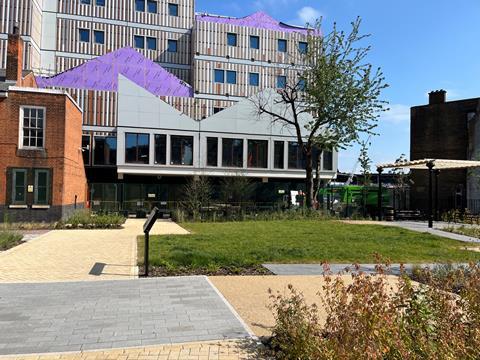 Built by the Mace Dragados joint venture, the centre was designed to be in use for the duration of the construction of the station.
The accommodation block has been manufactured offsite by Premier Modular with the building's exterior designed by Fraser Brown Mackenna Architects to make it look less like temporary accommodation blocks and blend in better with the local neighbourhood.
At peak, Euston was due to have a workforce of between 2,500 and 3,000 people on it with peak supposed to have been in 2025 and 2026.
But the station was put on hold for two years in March by the government and last month prime minister Rishi Sunak said the line would only go into Euston if it was bankrolled by private money.
>>>See also: 'The design team has gone from 500 to six.' What HS2 Euston is doing now
Lendlease was appointed master development partner for the Euston redevelopment in 2018 and is responsible for overseeing a 60 acre transformation of the area.
Firms Lendlease beat in the race to be development partner included Argent while British Land and Lipton Rogers are also understood to have looked at the job when it first came up.
Last month, the government said it wanted to see a development corporation set up to transform the Euston Quarter along the lines of similar regeneration schemes at Battersea Power Station and at King's Cross.
A redeveloped Euston will offer up to 10,000 homes along with an expansion of commercial and laboratory space, the government said.
One source said: "People are talking to the Department for Transport but setting up a development company doesn't happen overnight. Euston is the last big quarter of London that has got huge development opportunity. There's a real opportunity for life sciences and some firms have expressed interest in that. Plots being developed means you share land receipts with DfT and Treasury but I'm not sure we'll get a proper answer until after the election."
The station is being redesigned in an effort to bring down costs which will see just six platforms built – down from an original 11. Critics have said cutting the number of platforms by nearly half will permanently prevent any HS2 expansion to serve cities in the north.