Scheme will require demolition of 1930s building within conservation area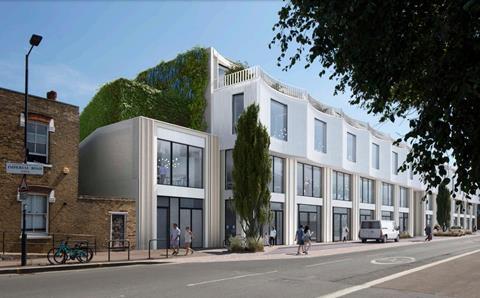 Feilden Clegg Bradley Studios has been given the green light for proposals to demolish a 1930s office building in a conservation area in Fulham and replace it with a 100m-long workplace development.
The four-storey west London scheme is planned for Imperial Road close to the Stamford Bridge home of Premier League football side Chelsea.
Work will involve flattening the existing row of commercial units, originally built in 1935 as a garage for the Imperial Gas Light and Coke Company.
Feilden Clegg said the "tired, outdated" existing building's low ceiling heights, lack of natural light and poor ventilation were unfit for modern working requirements and in need of "complete modernisation".
The new proposal features an art deco aesthetic, with white cladding, large windows and a repeating scalloped facade on the third storey.
The site is located within the Imperial Square and Gas Works conservation area, which was formerly the site of a major gas works district first established in 1823 on the market gardens and orchards of the Sandford Manor estate.
It is bounded to the rear by Imperial Square, an 1870s housing development built for workers and pensioners of the gas works.
FCBS's scheme is in immediate proximity to the 16ha Fulham Gasworks site, where a masterplan prepared by Apt Architects - formerly Robin Partington - for St William Homes - a JV between Berkeley and the National Grid - has been given outline planning permission.
The major mixed-use development will involve more than 1,800 homes in 24 buildings including a trio of Pilbrow & Partners towers up to 37-storeys in height, with other buildings designed by EPR.
The world's oldest surviving gasholder, which was built there in 1829 and is now grade II* listed, will be renovated and become the centrepiece of a new green space. Other grade II-listed buildings will also be refurbished including the neo-classical chief engineer's office built in 1857 and a research lab designed by Sir Walter Tapper in 1927.