10ha project is biggest development site in zone 1 – and could almost double in size
Hawkins Brown and Studio Egret West have won an international competition to replace Farrells as masterplanners of the vast Earls Court redevelopment project.
The 25-acre (10ha) site changed hands in December last year and the project was taken back to the drawing board.
New owners Delancey and Dutch pension fund manager APG said they want to almost double the size of the site to 40 acres.
They handed back two large council estates that had controversially been part of the previous proposals by Capco, set up the Earls Court Development Company to oversee the work and launched a six-month search for new architects.
Delancey said the competition had involved "world-leading" practices but did not name the other contenders.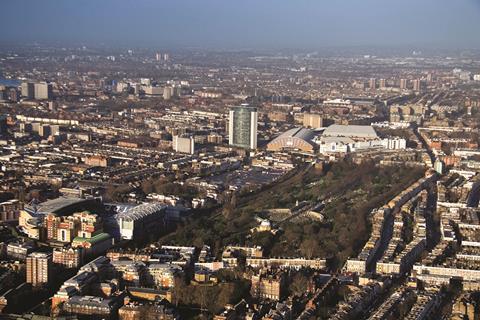 The only part of the Farrells scheme to survive is understood to be phase one designed by KPF and Pilbrow & Partners, all the flats in which have already been sold.
The new brief calls for a more mixed-use environment than previous plans, so that more commercial space is simultaneously delivered alongside a revised housing plan.
The ambition – like Farrells – is to stitch the dislocated site, which is characterised by rail lines and until recently housed the art deco Earls Court exhibition and concert venues, back into its surrounding urban fabric.
Delancey issued a statement saying: "The Earls Court Development Company will be delivering and developing the 25-acre former Earls Court Exhibition Centre site. The vision also seeks to extend the masterplan to include the Lillie Bridge Depot land, thereby increasing the development site to 40 acres. Following the handing back of the West Kensington and Gibbs Green estates to Hammersmith and Fulham, the estates will not be included in the masterplan. There is now a clear opportunity for a fresh approach at Earls Court with the former exhibition centre sites ready for development."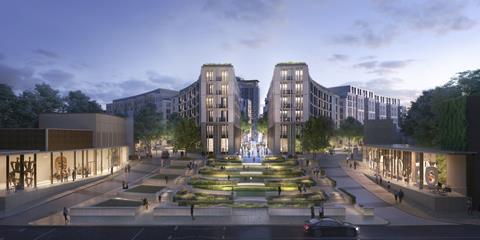 Roger Hawkins, director of Hawkins Brown, and David West, founder of Studio Egret West, issued a joint statement saying they were thrilled. They added that the two practices had enjoyed a long-term collaborative relationship on projects such as the ongoing regeneration of Park Hill in Sheffield, East Croydon interchange and, most recently, the evolution of Smithfield Market and its wider public realm.
"We believe that our common values, complementary skills, passion for place-making, people-first and landscape-led approach will bring forth an inclusive and successful transformation of this globally recognised part of west London," said the statement.
Jamie Ritblat, founder and chief executive of Delancey, said other project team announcements were imminent.
He added: "We believe we understand how important it is that our masterplan recognises the past and celebrates the future of Earls Court and of London." Mindful of past controversies, he said the architects would be consulting at "every step".
No timescale was given for a planning application, but Delancey said initial details would emerge "in the coming months".