Three-building development redrawn after criticism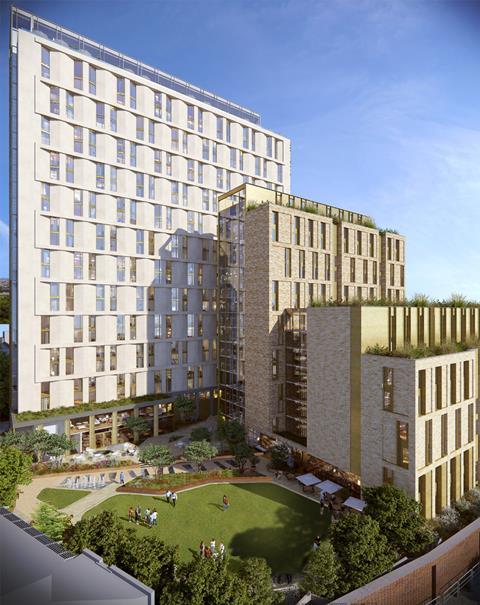 Dexter Moren has submitted plans for a 24-storey tower on a gateway site in west London.
The proposal is for a mixed-use scheme majoring on two hotels that would replace Hammersmith Magistrates Court which was sold in 2017 for £43m.
The 6,700sq m site between the A4 and Tube lines is also next to Ralph Erskine's 1991 Ark, whose distinctive boat-like design was an attempt to mitigate against the noise of its hostile environment.
Another neighbour is Niall McLaughlin's rebuilt LAMDA drama school.
Dexter Moren's proposal is for three linear buildings stepping up towards Talgarth Road where it becomes A4 flyover. They would contain two separate hotels, conference facilities, 23rd-floor workspace and bars and restaurants at the top and bottom.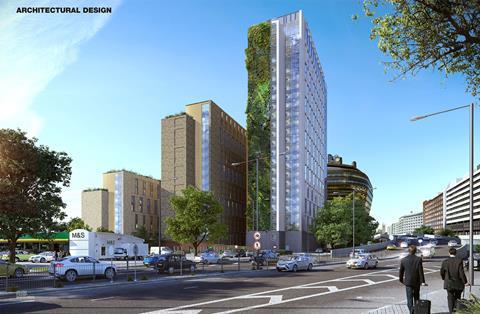 The design also includes what the architects are dubbing a south-facing "garden square" open to the community.
The scheme has been through a number of design iterations after residents and the local design review panel criticised the height and massing of earlier proposals. The panel also criticised the way the tallest element of the scheme would block views of the Ark for drivers entering Hammersmith from central London.
Even after the design tweaks local amenity groups are urging members to object to the project.