Customers paid £4,000 in compensation and face 12-month wait while issues with foundations are fixed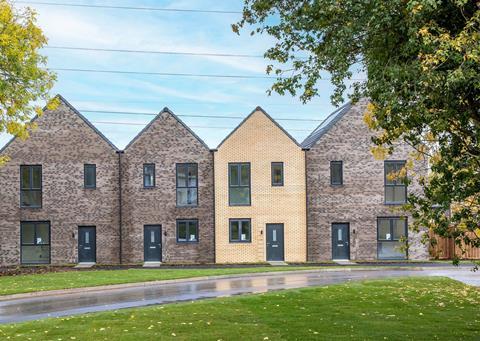 Developer Legal & General's troubled modular business has been forced to dismantle homes at one of its largest developments after uncovering defects with the foundations.
Around 12 properties are believed to be affected by the issues at the 125-home Bonnington Walk scheme in Bristol, designed for the local council by AHMM. The practice says it had no involvement in the project after it received planning approval in 2020.
Buyers with reservations for homes that are being dismantled have been handed £4,000 in compensation but are now facing a 12-month delay as existing modules on the factory-built homes are removed so the foundations can be fixed.
A spokesperson for L&G Modular said: "Through our quality assurance checks we identified problems with the foundations of the site at Bristol that need to be rectified. We are working closely with our consultants and the NHBC to rectify these issues as quickly as possible.
"In order to do this, we are removing existing modules, with new homes to be replaced on site after the foundations have been rectified. No homes will be handed over to customers which do not meet the NHBC's quality checks.
"We have informed customers that it could take 6-12 months to resolve these issues and are committed to treating our customers fairly. Where there have been delays, we have offered them compensation, as well as the option of cancellation."
Impacted customers have been told the delay is likely to be 12 months in letters sent by L&G and seen by building. Customers which decide to cancel their reservation have been offered a full refund of their £1,000 reservation fee.
It comes just three months after the firm announced it was ceasing production at its flagship modular factory after racking up at least £174m in losses since the division was founded in 2016.
The move to close the 550,000sq ft plant and make most of its 475 staff redundant amounted to an effective closure of the modular business, which reported a pre-tax loss of £36.8m in 2021.
It follows the difficulties at several MMC providers last year, including the collapse of the Urban Splash Sekisui joint venture, problems at Swan's modular housing programme and the collapse of Caledonian Modular.
AHMM has been contacted for comment.